Vaccine Distribution Fails Minority Communities, Sweat Records' Sweet 16, Live from The 305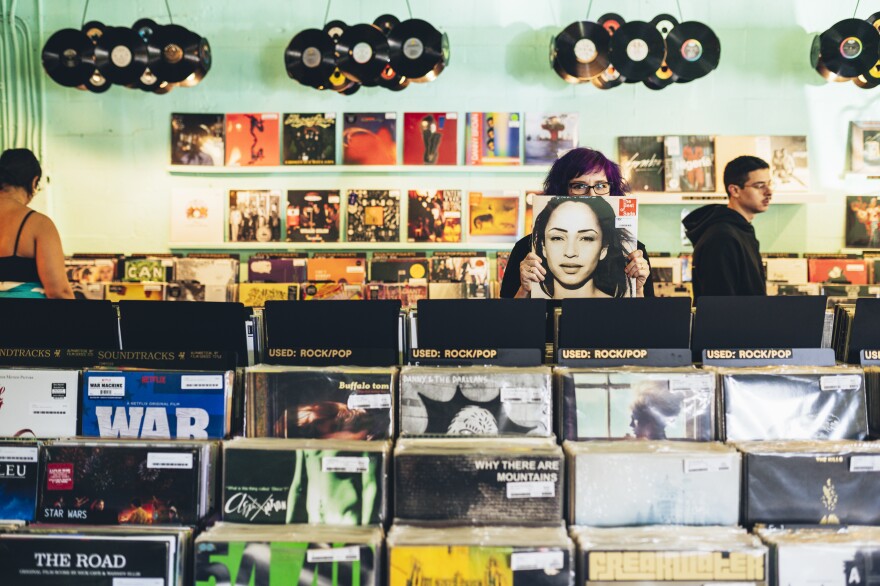 Why is it so hard to distribute COVID-19 vaccines out equally in Palm Beach County? A local record shop on staying in business throughout the pandemic. Adrienne Z shares how life in the Florida Keys inspires her music in a new episode of Live from the 305.
On this Thursday, March 11, episode of Sundial:
Vaccine Distribution Fails Minority Communities
More than three million Floridians have been vaccinated against COVID-19, according to the Florida Department of Health. But scheduling an appointment and having access to getting a shot in the arm may have a lot to do with your zip code.
WLRN is committed to providing the trusted news and local reporting you rely on. Please keep WLRN strong with your support today. Donate now. Thank you.
Although Palm Beach County has received a significant share of the state's vaccinations, data show a huge disparity in the number of Black and Hispanic people receiving their first doses.
"In the United States, Blacks and Hispanics have been hospitalized for COVID-19 at a far greater rate than their white counterparts. However, they haven't been vaccinated at that same level. That means we have to be intentional in terms of our plans to get Blacks and Hispanics vaccinated in the county and throughout the state of Florida," said Commissioner Mack Bernard, whose district includes Delray Beach, Boynton Beach and Riviera Beach.
Palm Beach County has the third largest number of COVID-19 cases in the state.
"The governor decided to open up 67 public sites. Those sites are near where most white residents live. To not have a permanent site east of I-95 in the urban corridor, where you have people who are in older communities and more disenfranchised communities, it makes it hard for those residents to be able to get vaccinated," Bernard said.
Vaccine Distribution Fails Minority Communities
Sweat Records' Sweet 16
The U.S. Small Business Administration surveyed a group of small businesses still in operation and found that just 34% were turning a profit. Funding for small businesses is included in the latest COVID-19 relief package passed by Congress Wednesday but the struggles will still remain.
Owners and entrepreneurs have been forced to become resilient and creative to survive.
"We've already been building this [website] and we literally launched it like a week or two before COVID-19 hit. So we're really grateful for that timing because we didn't have to scramble to build a web presence. Thankfully, my co-owner Emile, she used to work in shipping, so she's a master at all of that," said Lolo Reskin, founder of Sweat Records in Little Haiti.
The record store is celebrating 16 years in business this week. They are participating in a campaign to boost local businesses with the shoe company, Vans. The "Foot the Bill campaign" is making a classic slip-on shoe and T-shirt available for purchase with all of the proceeds going to the store.
"We just take a lot of care. We pack every single record really carefully. There's handwritten notes, stickers, all kinds of stuff. And we've gotten nothing but great feedback from the people ordering that they love receiving our very carefully put-together packages for them," Reskin said.
Live From The 305
For 20 years, singer-songwriter Adrienne Zalondick has called Key West home. She's made a living writing music for film and television and performing across the island chain.
Her stage name is Adrienne Z and she's the latest musician in our series Live from the 305, highlighting the artists that contribute to South Florida's diverse cultural landscape.
You can hear past interviews from the series here.