Miami Workers Call For $15 Minimum Wage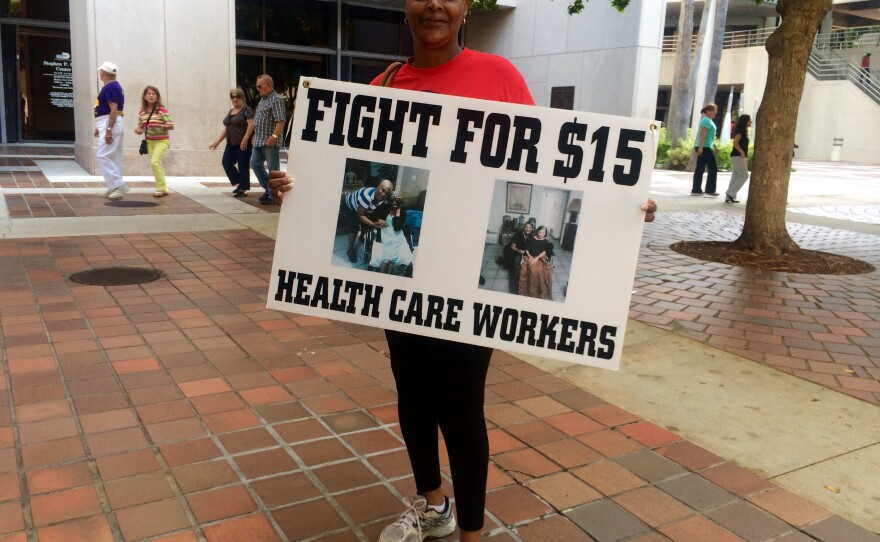 Molita Cunningham, a nurse at a hospice, calls for a $15 minimum wage at a conference Thursday.
Eleonora Edreva
Retiree Rafael Nuñez, right, supports young low-wage workers at a conference Thursday."
Eleonora Edreva
Four press conferences held Thursday morning across Florida -- including one in Miami -- joined a recent cry to nearly double the minimum wage to $15.
The push, spearheaded by the Service Employees International Union (SEIU), comes on the heels of a recommendation from New York's governor-appointed Wage Board for a $15 minimum wage.
Florida State Senator Dwight Bullard is one of the proponents of Senate Bill 6, which seeks to do the same here. He says that while it doesn't have majority support right now, he's "hopeful that filing the bill will incrementally move things closer to where they need to be."
State Senator Bullard is also a member of a group of elected officials in the state who are pledging to live on the current minimum wage of $8.05 for five days leading up to Labor Day. He says that the goal of this effort is to demonstrate to their colleagues that the full-time minimum wage salary in Florida "is just not a livable wage."
He spoke at the SEIU press conference in Miami, held Thursday morning at the Stephen P. Clark Government Center, where he was joined by low-wage employees from around the county who came to express their struggles of surviving on their current salaries.
"We're tired of sweating and living paycheck to paycheck," said Laura Rollins, a 63-year-old employee at McDonalds. "We want what everybody else wants. We just want to make life better for ourselves, our kids, our grandkids."
Workers shared common frustrations, including difficulties paying for gas to get to work, an inability to provide a good quality of life for their children and the lack of benefits such as healthcare for themselves and their family members.
Miami-Dade County Commissioner Barbara Jordan attended the press conference and called the move toward a $15 minimum wage "long overdue." She expressed her support for both low-wage workers and any legislation that would increase wages for Florida's workers.
The Greater Miami Chamber of Commerce, a lobbying group that advocates for businesses in the area, says that they are monitoring the situation but do not currently have a position on the issue.