Broward Meets Last Election Results Deadline Sunday, Cheers Erupt In Lauderhill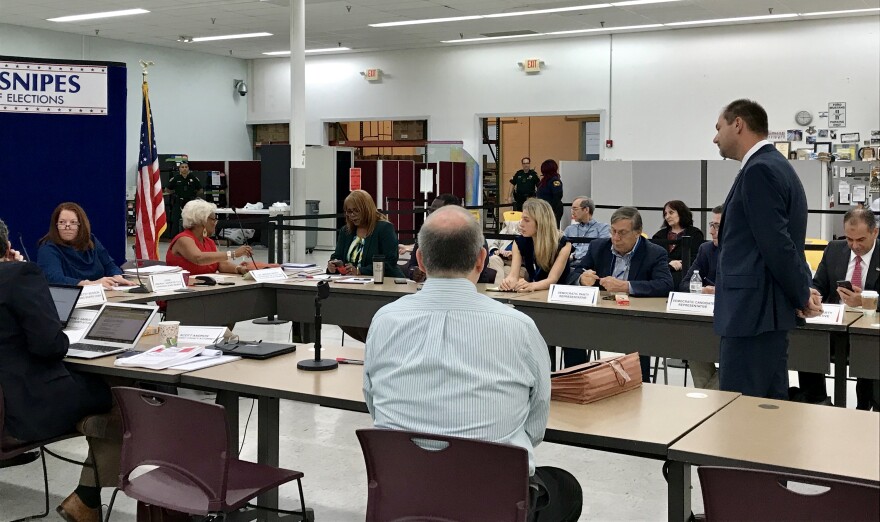 Broward County finished its election recount on Sunday, ending a week-long process that saw three statewide races contested and subjected the county to constant criticism of its ballot counting process.
The Supervisor of Elections Office submitted results to the Secretary of State's office in Tallahassee by 11:08 a.m.—beating the noon deadline, instead of missing it by two minutes, like what happened on Thursday.
Broward was forced to use numbers from it's initial count, not the machine recount last week. Machines lost 2,040 votes which were "intermingled," according to Supervisor of Elections, Brenda Snipes. All of those votes did end up in the final count sent to the state.
On Sunday morning, the canvassing board - in charge of reviewing questionable ballots and certifying the county election - had planned to start the final meeting at 8 a.m. in the vote-counting warehouse.
But Snipes showed up an hour and 15 minutes late.
"We are here in hopes that we have a final tally, is that correct?" Judge Betsy Benson, the canvassing board chair, asked Joseph D'Alessandro, Broward's director for election planning and development.
"That's correct," he said. But the board quickly noticed that the final results had mistakes and needed to be drawn up again.
At least two of the ballot items had vote discrepancies, the board said. It was a typo, according to D'Alessandro. He'd transposed the numbers while writing the report, and had to manually fix the reports for the board to approve.
The numbers were verified minutes later, and the board announced the final countywide numbers for the Agriculture Commissioner race: Republican candidate Matt Caldwell gained 78 votes in the hand-recount process. Democratic candidate Nikki Fried gained 178.
Other vote totals won't be available until the Secretary of State certifies results across Florida on Tuesday.
After the late start and the update to the final tally, the canvassing board was put on hold one more time before they could finish:
Attorneys from the county and Snipes wanted to negotiate changes to part of the final report.
Read More: Ron DeSantis Is Florida's Next Governor. Margin Barely Budges After Machine Recount
"I don't want to be late with Tallahassee," Benson said, around 10:45 a.m. "I really don't want to disenfranchise these 700,000 people over some stylistic issues...we really need to hurry."
Judge Deborah Carpenter-Toye, also from the canvassing board, had set what she called the "Debbie Deadline." She was not pleased when business was still unfinished after 10 a.m.
"We are now in the 11th hour and I am prepared to end this process," she said.
Attorneys changed the supplemental report to say that "staffing shortages" delayed the canvassing board process.
The canvassing board did receive the wording changes in time, and signed off on the final results.
D'Alessandro then confirmed that the state accepted Broward's final numbers - and clapping echoed off of the warehouse walls.
On her way out, Snipes told reporters that she believes some changes should be made to the elections' process.
"One lesson I learned: It's a big operation and there are some things that need to be tweaked," she said.
She would not say what she believes those changes should be. Snipes was also asked if Florida's next governor, Ron DeSantis, would remove her from office.
"No. I haven't heard anything about that," she said.
One of her employees, D'Alessandro, was just relieved that the long recount process was over.
He sang to security staff, to no particular tune, as he walked out the office door:
"Goodnight everybody!" he sang. "Or good afternoon, whatever. But I'm going home!"