The latest updates on the COVID-19 outbreak in South Florida. This page ended its updates as of August 2020. Head here for additional stories on COVID-19 and the pandemic.
Bolsonaro Oblivion: Why Brazil's COVID-19 Future Is Likely Worse Than It Looks
COMMENTARY
On Tuesday, U.S. President Donald Trump and Brazilian President Jair Bolsonaro – the leaders of the two largest countries in the Americas – finished neck-and-neck in their latest race to be more coronavirus-irresponsible than spring-breakers on Miami Beach.
WLRN depends on donors to remain South Florida's leading nonprofit, most trusted source of news and information. Support our mission by giving monthly as a sustaining member of Friends of WLRN or make a one-time donation of your choice. Thank you. Click here to give.
Trump declared, against the counsel of almost every public health expert in the Beltway, that America's COVID-19 eruption will miraculously recede in a couple weeks, in time for Easter. (Peter Cottontail hasn't responded.) Bolsonaro echoed Trump and ridiculed as "scorched-earth" hysteria the move by Brazil's two largest cities, São Paulo and Rio de Janeiro, to go on lockdown to slow the mounting spread of the new coronavirus there.
I'll of course exult if their corona-fantasies about a swift end to the pandemic come true. But the science says they won't. And responsible leaders listen to the science.
So back to that competition I mentioned between Trump and Bolsonaro to see which far-right demagogue is more reckless – a contest they've joined before on matters like climate change and the Amazon rainforest. Right now you gotta give the edge to Jair – who keeps insisting the COVID-19 threat is just a phony media "trick."
READ MORE: Coronavirus May Have Silver Lining in the Americas: Return to Society's Golden Rule
Which is why everyone needs to record one of those this is me speaking to you ten days from now videos and send them to the Planalto presidential palace in Brasília.
And start with this math:
Two weeks ago, March 11, Italy – so far the world's hardest hit country – had 12,462 coronavirus cases. Now it's reporting 69,176. Looks skyrocketing. But look closer. It's a 455 percent increase – compared to the 2,550 percent leap Italy experienced the previous two weeks. The rate, while still tragically high, slowed.
Now cross the pond. On March 11 the U.S. had 1,301 cases; today it's 55,225 – a 4,100 percent rise. Brazil two weeks ago had just 52 cases – but now has 2,271. A 4,300 percent jump.
Trump and Bolsonaro are in a race to see who's more coronavirus-irresponsible than spring-breakers on Miami Beach – and right now you gotta give the edge to Jair.
Yes, Brazil's number looks comparatively low. But its trend appears to jibe with the corona-science. It may take longer for a country to see its first cases appear and then mushroom – as has been the case in much of this hemisphere – but when they do they tend to follow a pattern: harrowing, exponential outbreak, especially when increased testing kicks in; then slowly slowed transmission if solid social quarantine measures are taken; then a leveling of that outbreak.
Italy's curve may finally be flattening after its month-long nightmare. But the U.S. and Brazil are still just in the second stage – working to slow transmission – and the U.S. looks to be ahead of Brazil.
That hardly means the U.S. will be out of the woods by Easter – thanks largely to its inexcusably sluggish start on testing and mealy-mouthed guidance on social distancing, which are thanks in no small part to Trump's determination to downplay the crisis. But if the trends are reliable, Brazil has only started to see its corona-mayhem. And here are just two big factors to toss Bolsonaro in your hindsight video:
CORONA-BOMBS
First, remind O Presidente Brazil is a developing country with a decidedly developing healthcare system – which until recently had to import Cuban doctors due to an acute shortage of its own.
If Brazil sees another 4,300 percent (or more) escalation in COVID-19 cases in the next two weeks, and another two weeks later, the strain on Brazil's shaky medical infrastructure could be devastating enough to make the Zika epidemic look like a slow day in the E.R. We'll likely see far more than the 47 COVID deaths Brazil has so far registered – more than 5,000 by April 6, according to a Brazilian intelligence estimate this week reported by The Intercept Brasil.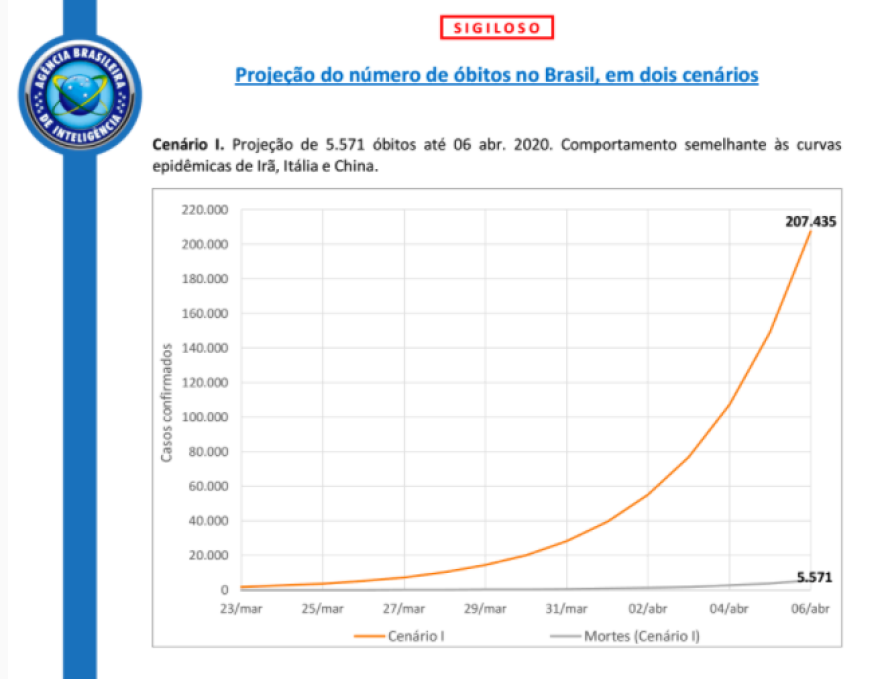 Second, Brazil already has Latin America's largest number of COVID-19 cases – twice as many as the next country, Ecuador. Its metropolises are potential corona-bombs, and not just because of their size.
São Paulo, for example, is the hemisphere's most populous city, but it also has more Italian immigrants and more people with Italian ancestry than any city outside Italy. Doctors there have emphasized to me that Paulistas had regular trans-Atlantic contact with Italy well after its epic coronavirus outbreak began – and well before Brazil began shutting down international flights. Your ten days from now video might remind Bolsonaro that Brazil's first case appeared in São Paulo – a middle-aged man who'd just returned from Milan.
There are many other concerns to tell Jair about. But it's doubtful he'll listen. That's why perhaps the biggest anxiety regarding Brazil's COVID future is Bolsonaro's scorched-earth cluelessness about the looming suffering.