Poll Shows Crist Gaining On Scott, Marijuana Support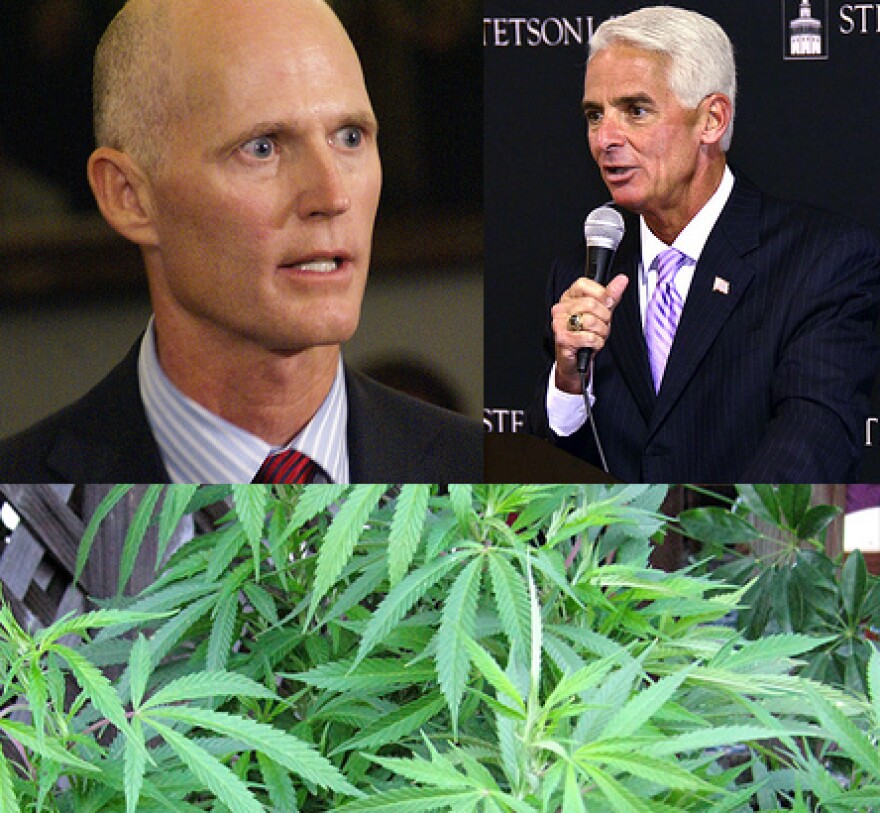 In the zero-sum game of partisan politics, it's not too often that a pollster can say what Peter Brown said Thursday morning while introducing the latest results of the Quinnipiac University poll on the Florida's governor's race.
"To some degree, this poll has good news for both candidates," said Brown, assistant director of the survey.
The good news for former Gov. Charlie Crist, a longtime Republican now running as a Democrat for his old job, is that he still has a seven-point lead against current Gov. Rick Scott -- with Crist getting the support of 47 percent of those polled to 40 percent for Scott. The good news for Scott is that the gap between the two in Quinnipiac's March poll was 16 points.
The survey, which was conducted from Nov. 12 to 17, has a margin of error of 2.4 percentage points.
To be sure, there are still troubling numbers for Scott beyond the poll's top-line figures. Scott's job approval rating remains underwater, with 47 percent of Floridians disapproving and 42 percent approving -- though it should be pointed out that Scott's approval rating was once 29 percent. The governor's personal favorability rating is only 39 percent, three points below his unfavorable rating, with less than a year before voters head to the polls.
And just 37 percent of voters say the governor deserves to be re-elected, with 53 percent saying he doesn't -- a sentiment shared by 56 percent of independents.
"Basically, the only argument for his ability to bounce back from that is, he has $100 million," said Steve Schale, a Democratic political consultant. Schale advises Crist but stressed he was not speaking for the campaign.
The poll contained Floridians' views on other issues as well. For example, it showed 82 percent of voters supporting a ballot initiative that would legalize the use of marijuana for medicinal purposes, with 16 percent opposed. While that gap could also close, its very existence could alter a potential campaign about the issue.
"I don't know with that kind of number that the opponents are going to be eager to spend millions fighting it," said Susan MacManus, a political science professor at the University of South Florida in Tampa.
But most of the attention on the poll was likely to be focused on the governor's race -- one of the first major, nonpartisan polls following Crist's official announcement this month that he would enter the race.
Schale, who has clashed with Quinnipiac over its polling methods before, downplayed the notion that Crist's narrowing margin marked a true change in the dynamics of the campaign.
"The idea that this was ever a 15-point race is foolish," he said.
Indeed, much of Scott's improvement against Crist appears to come from "soft" Republicans returning to his corner. In the March poll, Scott led Crist 76-16 among the GOP; in the latest poll, that lead has increased to 80-11, a nine-point swing.
"The partisan lines are starting to deepen," MacManus said.
The numbers are not all rosy for Crist, either. The margin between his favorability and unfavorability has fallen by 17 points since March. On the question of whether Crist's political evolution is a good thing or a bad thing, the numbers have gone from 50-40 in favor of Crist to an even 46-46 split.
And with both candidates well-known to the public and neither getting the support of a majority, the state could be headed for an ugly campaign. Crist is a prodigious fundraiser, and Scott has spoken of running a $100 million campaign -- which would be by far the most expensive in Florida history -- to ensure his re-election.
"Come election day in 2014, the next governor will be the one who is disliked least by the Florida electorate," Brown said.
The Republican Party of Florida clearly signaled where the GOP was headed: continuing its efforts to make the race a contrast between Scott and Crist on the economy.
"When it comes to the number one issue on the minds of Floridians, jobs and the economy, our focus is to make sure that Floridians know the successful record of Rick Scott and the disastrous record of CharlieCrist," RPOF Chairman Lenny Curry said in a statement issued in response to the poll. "While Charlie Cristsupports policies like Obamacare that harm our economy, Rick Scott has implemented policies that have put Florida ahead of the rest of the nation when it comes to job creation."
The initiative is almost certain to continue. Brown said that Crist's numbers will need to slide more for Scott to earn a second term.
"In other words, for Scott to win, he's going to have to convince voters that Charlie was not a good governor and that he's a political opportunist," Brown said. "And we all expect that he will spend tens of millions of dollars to make that argument. We'll see whether it works or not."