Reimagining Calle Ocho: Urban Designers Want To Take It Back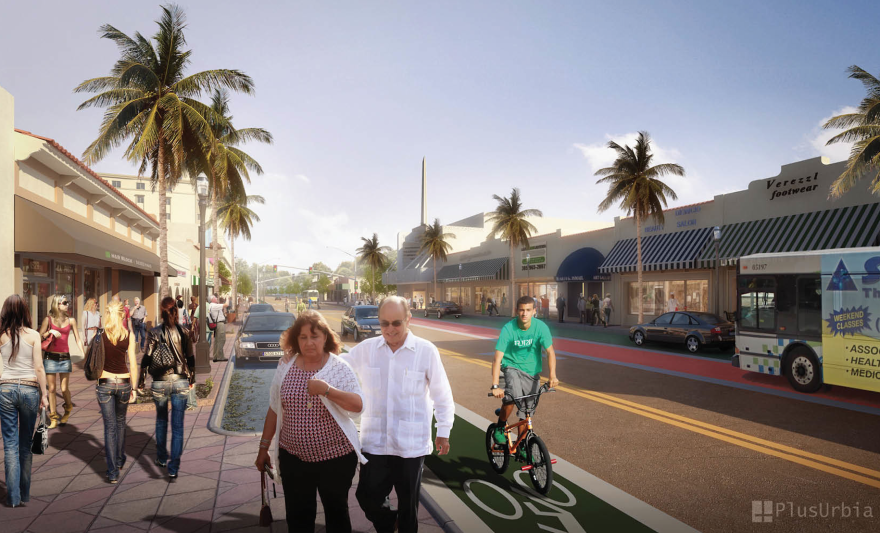 Change may be coming to Calle Ocho.
In the 1960s, the street running through the heart of Little Havana was transformed from a small neighborhood road to a one-way, three-lane highway intended to alleviate traffic flowing downtown.
As a result, cars have reigned supreme, taking away the pedestrian-friendly atmosphere the street used have.
Urban design firm PlusUrbia has decided it's time to bring that atmosphere back. The firm just released a plan for CalleOcho that seeks a return to the two-lane, two-way street it used to be. The plan also includes an expanded sidewalk, a bike lane, and a bus lane.
"The key word here is options. You need to provide options for mobility, not just for the car," says Juan Mullerat, the director of PlusUrbia.
The Florida Department of Transportation (FDOT) has also been looking into redesigning the area. Ivette Ruiz-Paz, spokesperson with FDOT, explains that in addition to goals like developing a pedestrian-friendly area and improving safety, they also seek to improve access to Brickell.
"FDOT is studying the area because of all the growth in Brickell and West Brickell. The trouble is that FDOT views improvement as just more cars: faster, wider, one way," says PlusUrbia communications manager Steve Wright, "our vision is, it's not like we're anti-car, but the vision is: share things."
Wright and Mullerat both live within several blocks of CalleOcho, and approached this project as concerned community members seeking to improve the status of their neighborhood.
In addition to concerns with safety and accessibility, they also credit the street's unfriendliness to pedestrians with taking away from the neighborhood's personality.
Wright, who moved to Little Havana because of the fame and character of CalleOcho, says every so often a local shop goes out of business and a chain gets put in. "Developers say 'Look, it's a highway. Put highway-like development on it.' Pretty soon the character that drove everyone there will be gone."
The firm is quick to point out this proposal is by no means a final plan, but instead a jumping off point for creating more discussion around how to create the best possible CalleOcho.
"What we proposed is not the final or the best solution. Call it an appetizer to see if we can get people out there and really put our minds together something to make CalleOcho more of a destination instead of a pass-through highway from the turnpike to Brickell," says Mullerat.
The plan has received comments from community members already, and PlusUrbia is awaiting to hear what FDOT will say. There is precedent of the agency working with private firms before, and Mullerat is hopeful FDOT will take into consideration community needs and concerns when deciding how to proceed with Calle Ocho.
Ruiz-Paz says of FDOT's timeline that they expect to have "short term pedestrian improvements" put into place within the next two or three years.
Mullerat sums up the project in a single line: "This is the heart of Miami — we better get it right."