Opioid Crisis
South Florida is in the midst of an overdose epidemic.

Nearly 1700 people died of opioid overdoses in South Florida in 2016.
Super-potent synthetic opioids like fentanyl and carfentanil – up to a 100 times stronger that heroin - are flooding the streets.
The sheer number of overdoses is overwhelming police, firefighters, hospitals and morgues.
Compounding the problem, recovering drug users are flocking to South Florida from hundreds of miles away – drawn by a world-renowned drug treatment industry. Some land in good centers and find a path to recovery. Others fall victim to corrupt operators and wind up homeless, pimped out...or dead.
---
Explore the series
---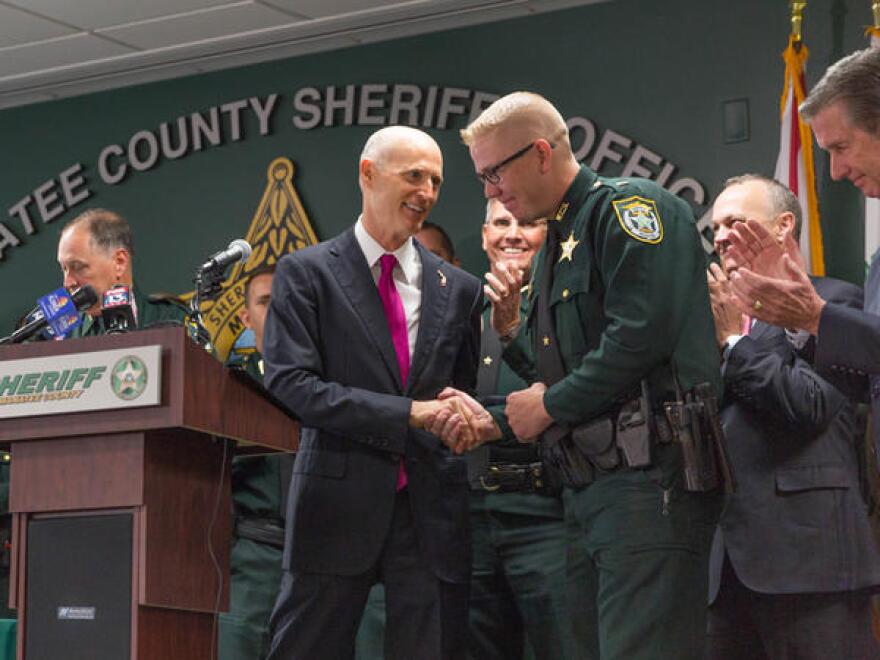 Saying it is critical to "stop the addiction in the beginning," Gov. Rick Scott on Monday signed a high-profile bill designed to prevent patients from getting hooked on powerful opioids. [Read more]
---
'We Can't Do Without It': First Responders Pay Soaring Price For Overdose Antidote Naloxone
As first responders in South Florida — and across the country — need naloxone like never before, the escalating cost of the drug is socking it to taxpayers, according to a new WLRN investigation. [Read more]
---
After three decades, the United Way of Broward County Commission on Substance Abuse is changing its name to reflect a more holistic view of its mission. [Read more]
---
"If our agents can show the nexus between you — the pusher of poison — and the person that overdoses and dies, we will charge you with murder," said Lake County Sheriff Peyton Grinnell. "We are coming for you. Run." [Read more]
---
The counties join more than 100 cities, counties, and states across the country that are taking legal action against drug companies. [Read more]
---
If you run a business in Florida, you have the right to maintain a drug-free workplace. But does that apply to drugs prescribed by a doctor — like medical marijuana and opioid painkillers? [Read more]
---
Palm Beach County officials say 43 people have been charged with violating a county-wide curfew in effect due to Hurricane Irma. And at emergency shelters, opioids have been a problem. [Read more]
---
South Florida officials and advocates rallied at Florida Atlantic University in Boca Raton Thursday night to highlight International Overdose Awareness Day. [Read more]
---
Thursday is International Overdose Awareness Day and, to mark the occasion, advocates and officials from Palm Beach, Broward and Miami-Dade Counties will gather on the Florida Atlantic University campus in Boca Raton to call for ... [Read more]
---
"There are no normal drugs anymore," said Broward County Medical Examiner Dr. Craig Mallak. "Everything's a combination." [Read more]
---
"If you built cars and 90 percent of them broke down, you would go out of business. In the treatment industry, you get reimbursed for providing services — but facilities don't take responsibility for the outcome the second the client leaves the door," says Andrew Burki is CEO of Life of Purpose, an addiction treatment center on the Florida Atlantic University Campus in Boca Raton. [Read more]
---
Some sober home operators are dedicated to helping residents succeed in recovery. But others see addicts as a payday. A corrupt drug treatment center might pay $500 a week in kickbacks to sober home operators who steer them clients with health insurance — somebody like Dillon Katz ... [Read more]
---
State legislators came to Palm Beach County Tuesday to discuss the opioid crisis.
County officials, first responders, treatment professionals and advocates offered up stories from the front lines and ideas for reducing overdoses and deaths... [Read More]
---
An internet black market used by some Floridians to buy and sell heroin and fentanyl has been shut down in an international law enforcement operation ... [Read More]
---
Palm Beach County Medical Examiner Dr. Michael Bell says fatal opioid overdoses have overwhelmed his office. "It's just work, work, work. There's no time to reflect upon the cases." [Read More]
---
Beginning Oct. 1, judges will be bound to give mandatory minimum sentences to people caught with fentanyl and carfentanil. Those with four grams will receive a minimum of three years in prison, 14 grams will draw 15 years, and 28 grams -- 25 years. [Read More]
---
The U.S. Drug Enforcement Agency is warning police and firefighters to take special precautions in case they encounter synthetic opioids like fentanyl. The drugs can cause overdose just from contact with skin ... [Read More]
---
It's over 50 times more potent than morphine. The deadly nature of the drug prompted state lawmakers to take action this year. Now Florida law allows people who distribute a fatal dose of fentanyl to be charged with 'drug-induced homicide.' [Read More]
---
Delray Beach is at the epicenter of a South Florida overdose epidemic that claimed more than 1,000 lives last year. And many of those victims were from out of state.
"We're now having tourists come in for treatment," said Lake Worth City Manager, Michael Bornstein. "These young folks in their 20s from New Jersey, New York, Michigan — wherever the heck they're coming from — and their families send them here."[Read More]
---
Law enforcement officials are warning of a deadly new drug hitting that's actually a mixture of several opioid drugs, including heroin, fentanyl and elephant tranquilizer ... [Read More]
---
Governor Rick Scott has declared a Public Health Emergency and directed the state government to act to curb Florida's opioid epidemic ... [Read More]
---
Calls are mounting for Gov. Rick Scott to declare of public health emergency in the wake of an estimated 4,000 deaths in Florida last year due to heroin and opioid overdoses ... [Read More]
---
The growing threat of the opioids epidemic is mobilizing law enforcement and community leaders to form new partnerships and collaborate in events such as ...[Read More]
---
The man had just risen from the dead.
He's in his mid-20's. Sitting on a couch in a house in Delray Beach. Pale as a ghost, sweaty, wide-eyed, disoriented. Like he just woke up from a nightmare ... [Read more]
---
China is the source of deadly fentanyl that's fueling an opioid overdose epidemic in South Florida and elsewhere in the United States ...[Read more]
---
As the addiction recovery industry boomed in South Florida over the past decade, so did the number of recovery residences - also known as sober homes ... [Read more]
---
The Palm Beach County Sober Homes Task Force is putting the finishing touches on a report headed to lawmakers in Tallahassee. It outlines strategies to better regulate drug treatment providers and sober homes ... [Read more]
---
Delray Beach Police Detective Nicole Lucas weighs in on irregularities in sober homes and treatment centers: "The problem is humongous, probably as big as the pain clinics and the pill mills ... "[Read more]
---
The epidemic of opioid overdoses continues to grip Delray Beach. The city saw 75 heroin overdoses last month, with 4 of them fatal. That's a slight decrease from October, which brought an all-time high of 88 heroin overdoses ... [Read more] 
---
The man leading the fight against unscrupulous sober homes has a message for state legislators: "When the appropiations process comes up, please keep us in mind," said Palm Beach County State Attorney Dave Aronberg ... [Read more] 
---
Iskander joins sober home operators John Dudek, Howard Fowler, Jr. and brothers Patrick and Brian Norquist. The five men have all been arrested in Palm Beach County over the past week on charges of patient brokering ...[Read more] 
---
The federal government is giving cities some new guidance on how far they can go in regulating sober homes.
Under the new guidelines, cities have more legal authority to grant or deny the exemptions that allow a sober home to move in ...[Read more] 
---
"Make no mistake about it: two sets of eyes – so we have both government and the private sector looking at these residences to make sure they're squeaky clean," said Assistant State Attorney Al Johnson about a new task force created to crack down on unscrupulous addiction recovery residences ...[Read more]