Sushi's New Year's Eve Plans: First Wedding, Then Shoe Drop
Lots of people have trouble figuring out what to do on New Year's Eve every year. Not Gary Marion of Key West — better known to the wider world as the drag queen Sushi.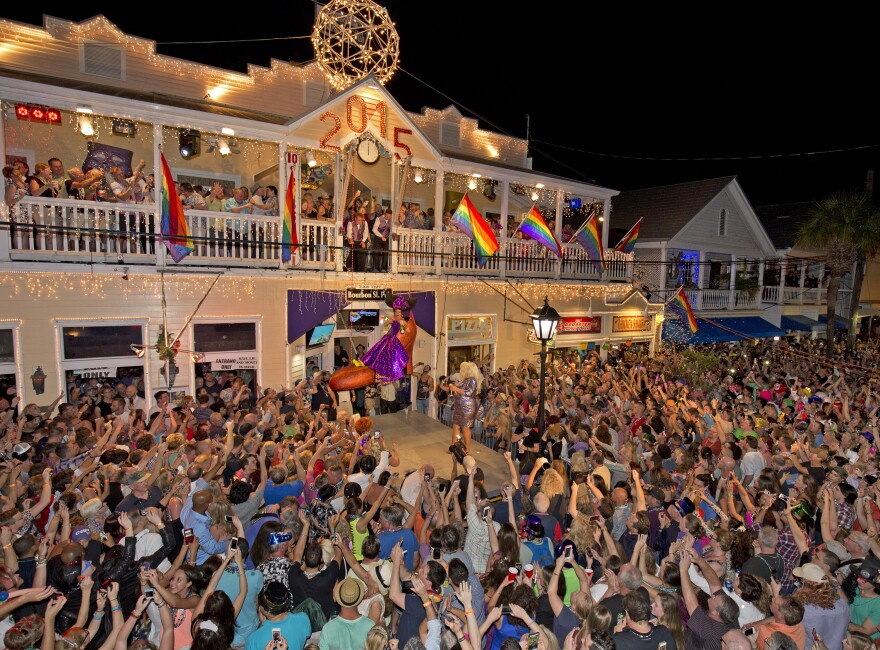 "On New Year's Eve, I sit in a big, red, giant high heel and I get descended at the stroke of midnight," she says. "It will be my 19th year in the shoe."
Like most years, Sushi is making an elaborate outfit for herself for the big night. Unlike most years, she's also creating outfits for a flower girl, bridesmaids and the "ordained drag queen minister" who will be marrying Sushi and her fiance, Jeff Kusin.
Sushi says the wedding will be performed on stage at the 801 Bourbon Bar, just before she hops into the shoe.
"I told him when I met him 10 years ago that I wouldn't get married until it was legal all over the United States," Sushi says. "So it's legal now. And he's like, 'It's legal! We're getting married!'"
Sushi says she had few qualms about combining the wedding with the New Year's Eve drop, already a high-stress event witnessed by thousands of people in Key West.
"I'm going to be stressed out anyway," she says. "It's all there — the lighting, the music, pretty much everybody that I know in Key West. So I said, 'Why not? Let them pay for it.'"
Sushi's drop in the ruby slipper has been repeatedly featured on CNN's New Year's Live, though it's unclear if this year's show will include Key West. And Sushi will not be the only person, or item, in Key West scheduled to mark the New Year with a descent.
Below, watch Gary Marion, better known as drag queen Sushi, discussing the New Year's Eve red heel drop in 2009.
The Schooner Wharf Bar plans to lower a "pirate wench" along the mast of a tall ship; the Ocean Key House resort is set to send a giant lime wedge into a waiting giant margarita; Sloppy Joe's will lower its traditional conch shell at midnight, and a new entrant this year, The Porch, is promising to mark the new year with the descent of a disco unicorn.