Sick And Waiting For Help In Miami, The Longest Line For Disability In The Country
Sherice Bennett is a caretaker.
She takes care of her sister who has cerebral palsy. She had two sons, two dogs and she still has the tank that used to house her turtle and fish.
It's a role she happily fills on top of the other roles she's taken on over the years: call center coordinator, caterer, accounts payable, executive secretary and, when that failed, school bus and truck driver.
But about 10 years ago, working in any capacity started getting harder. Bennett was diagnosed with diabetes that had gone untreated for a while. A few years later she injured her ankle, which meant she couldn't stand up for very long. Then an inflammatory lung disease, arthritis in her hands, and in 2013, after putting off visits to the doctor, she was told he had an aortic valve condition, something she was born with.
She had to stop working. She had no health insurance.
Disability benefits were designed to help when people get sick or hurt and can't work. Those on disability get monthly disbursements to go towards expenses and automatically get health insurance -- either Medicaid or Medicare.
Most disability applications are initially denied. After two denials, the only other recourse is to request a hearing to make your case in front of a judge. And in Miami, that can take a long time.
Over the last year, the Miami Office of Disability Adjudication and Review has had the longest average wait times in the country – a little more than 20 months.
Bennett has applied for disability so many times she's lost track - at least five times – and each time she's been denied.
"For me to pay my bills, I have friends sometimes that step up to the plate and they'll send me money or they'll pay the bill for me, but you don't want to be a burden on somebody else," said Bennett.
"Let's put it this way. If you're a person and you have means and you have money, you can get up and go to the restaurant. You can take a vacation. You can go out with friends. You can go shopping for clothes. These things that they take for granted are things I have to plan for. I have to put that money away a dollar at a time."
She filed her most recent application in July of 2014.
So now—like 9000 other people who've applied for benefits through the Miami disability office—she's waiting to argue her case in front of a judge and make a convincing argument for why she should not have been denied.
So far, Bennett's been waiting 18 months on her most recent case. And statistically, she's got months to go before she'll get a hearing.
"I had an uncle who was awarded benefits posthumously five years after he applied," says Thomas Snook, an administrative law judge for the Social Security Administration, where he's been deciding on disability cases for 18 years.
"There's something wrong with a system that is designed to help people [who] are disabled, where people are dying before you can hear their cases," said Snook.
There's something wrong with a system that is designed to help people [who] are disabled, where people are dying before you can hear their cases. -- Thomas Snook, administrative law judge, Miami Office of Disability Adjudication and Review
The Social Security Administration declined to be interviewed for this story, but issued a statement pointing to shrinking budgets and growing numbers of hearing requests as reasons for the long wait.
But that explanation isn't sitting well with Bennett.
"It's my money. I mean, it's crazy to deny me what I've put into the program," she said.
The government takes out money for social security from most paychecks -- money she is hoping to recuperate now that she needs it.
"If Social Security had given me what's due me, I would have Medicare," said Bennett. "I wouldn't have to worry about my health, I wouldn't have to worry about how I'm going to pay my bills and just basic living needs."
In October, Bennett joined a lawsuit against the Social Security Administration with a dozen other people who've been waiting to see a judge -- some of them for nearly 30 months.
The suit was organized by the University of Miami School of Law's Health Rights Clinic, which sits at this unusual intersection between lawyers and doctors. Through the university, it has easy access to the staff and doctors at the medical school and the clinic is trying to leverage that access to help people get disability benefits more quickly.
Aside from getting things sorted out through the lawsuit, the UM clinic may have figured out another way to deal with the issue on the front end of the problem. That's the approach Carlos Nuñez from Stuart, Fla., tried.
Last April, he was diagnosed with a type of brain cancer usually found in kids. Every few weeks he goes for treatment at the pediatric wing of Sylvester Cancer center in Miami and the treatments can last a few days.
At 23 years old, Nuñez towers over the other patients in the hallways.
He proudly sports a beanie with the face of the cartoon character Stitch on it, a present from his sister. It covers his head — bare except for a little fuzz — but it doesn't hide the half-foot-long scar long that runs up along the nape of his neck.
Doctors told Nuñez he couldn't work for at least a year so he quit his job as a cleaner in a mall. His mom had to quit her job, too, in order to drive Nuñez the two hours down to Miami from Stuart almost every week for his treatments. They leave him too weak to drive. Even conversation is hard for him to sustain after a few hours.
Carlos Nuñez would seem like a perfect candidate for a kind of disability called supplemental security income, or SSI.
And with brain surgery, dozens of rounds of chemo and radiation, he says he needs the health insurance he'd get through the program.
He applied right after his brain surgery in April.
"It all goes down to the letter. The letter is the decision," explains Nuñez. "When I got my letter I was at my house: denial."
Like Sherice Bennett, the only choice he had was to request a hearing and wait for a judge.
But before he submitted that paperwork, he got linked up with the Health Rights Clinic.
Melissa Swain, associate director of the clinic, says Nuñez's case is so black and white; she has no idea how the Social Security Administration could have denied him in first place. It's something she sees pretty frequently.
"The problem is that doctors and social security don't really communicate on the same level. They don't speak the same language," explains Swain.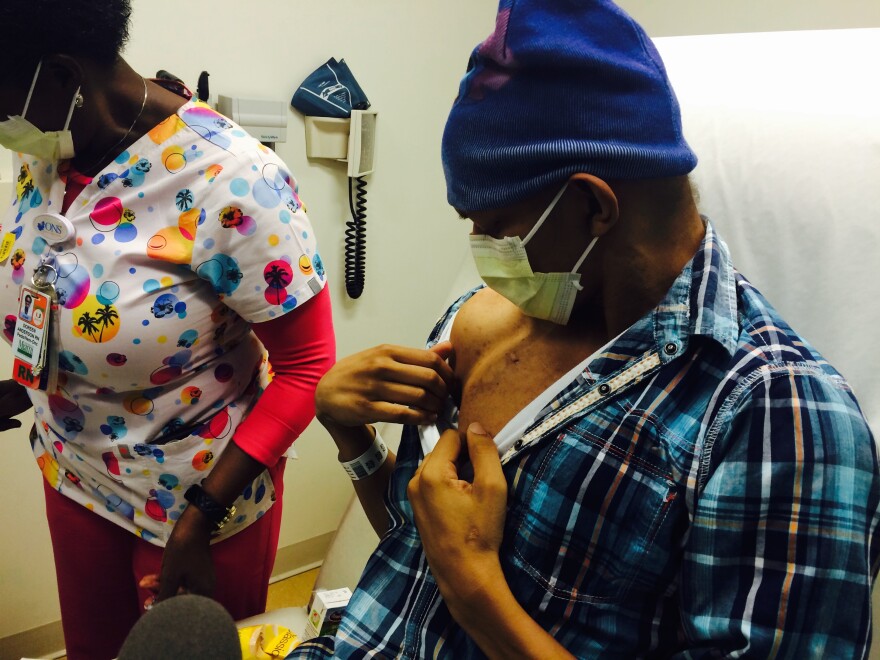 For Dr. Michael Kolber, that difference was very clear in his work at the University of Miami Miller School of Medicine.
"A lot of the disability questions I remember had nothing to do with the way I look at disability," said Kolber.
And in this litigious world, doctors are wary of filling out forms they're unfamiliar with. Kolber has helped the Health Rights Clinic bridge some of these divides and get doctors on board with the clinic's seemingly simple solutions.
For Carlos, Swain of the Health Rights Clinic created a one-page solution that translates the medical diagnosis into language made for the Social Security Administration "so that they could understand: 'Oh, wait. He is eligible, what were we thinking?' "
This one page is essentially a roadmap to the hundreds of pages of evidence people like Nuñez have to submit from their doctors -- in language made for the social security administration.
And with this one-page form, the students at the health clinic got his case reopened and approved.
This type of one-page form could cut down the number of people waiting for a disability hearing. And that, hypothetically, could help cut down on the extremely long wait times for other people who don't have as cut-and-dry cases.
The clinic is hoping to make more of these roadmaps available to the public, but Swain knows Nuñez's case is unusual.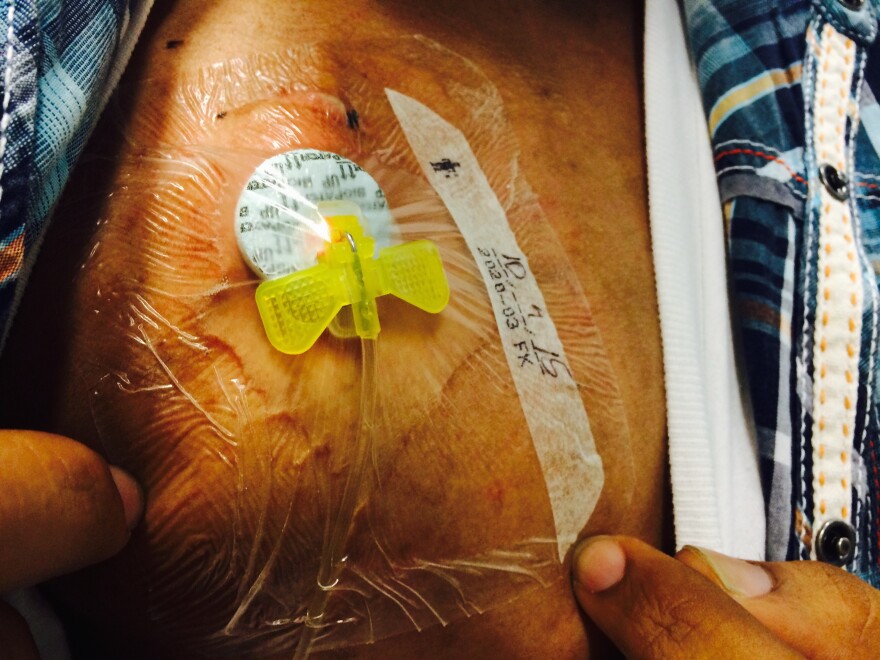 She doesn't see the Social Security office going back and reopening a bunch of cases like Sherice Bennett's, who just has to continue waiting for her latest disability hearing.
In the meantime, she's had open-heart surgery. The hospital picked up the tab.
If she wins her benefits, though, she could get back pay -- all the way back to when she first applied six years ago.
She says if she gets disability benefits, she'd buy a home with the back pay, but she'd keep her car, just get it fixed up a bit.
And for the first time in a long time, she'd have health insurance.