In South Florida, where the Everglades meet the bays, environmental challenges abound. Sea level rise threatens homes and real estate. Invasive species imperil native plants and animals. Pesticides reduce the risk of mosquito-borne diseases, but at what cost? WLRN's award-winning environment reporting strives to capture the color and complexity of human interaction with one of the most biodiverse areas of the planet.
For Goodness Snakes: Why Do Journalists Love Pythons?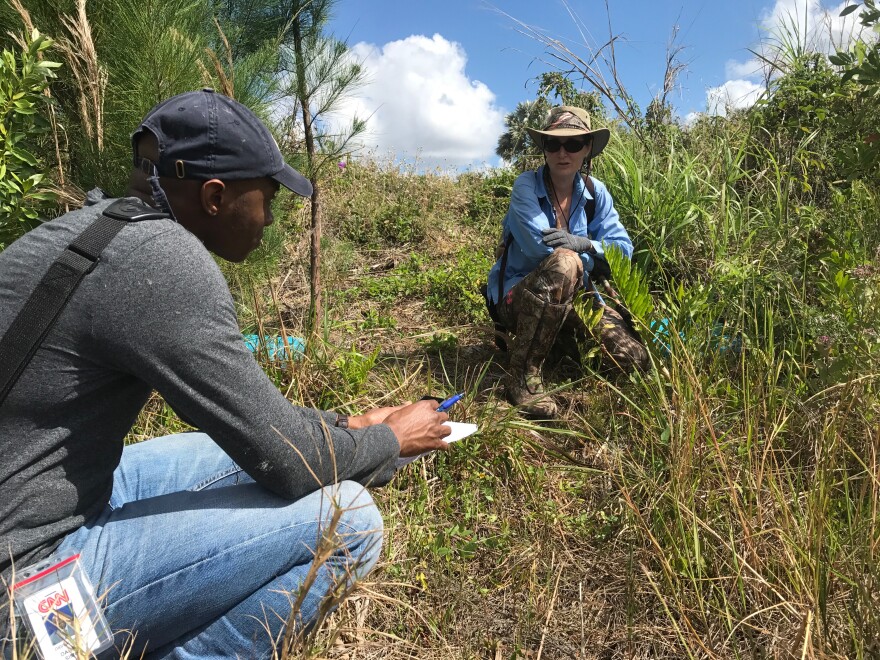 Payrolled python hunters. They're the latest story on the South Florida python beat, and they're drawing national and international media attention, too.
The South Florida Water Management District recently hired 24 men and one woman to catch and kill invasive Burmese pythons. And in March, the district invited journalists to spend a morning out with its hunters. Participants included WLRN, the Miami Herald, CNN and the Wall Street Journal.
District spokesman Randy Smith says more than a dozen media organizations attended, including journalists from Germany and Sweden.
"I think it's the perception of giant snakes that really has attracted international media attention," Smith said. "There's a developing understanding of what a serious problem this is when you have these creatures that come into an area where they shouldn't be."
The district hasn't yet done an episode about pythons for its podcast. But its website does have video profiles of nine of the python hunters. And last week the district live-streamed the weigh-in of a 14-foot, 6-inch monster caught by Dusty "The Wildman" Crum. (Crum, who has an orchid-growing business in Venice, Florida, was part of the team that won the 2016 Python Challenge by catching 33 snakes, including a 15-footer.)
These giant invasive snakes have no predators, breed like crazy and eat everything. If you've seen the Palm Beach Post's video of a python wrestling and ultimately killing an alligator, you probably understand the mix of fear and fascination that makes pythons a hot story.
Python hunter Donna Kalil gets it.
"That's why I went out to Loop Road," she told WLRN during the media session. "I thought, 'Dang, at least a 16-footer. I could catch a 16-footer if it had a big alligator in its stomach still.'"
(If you've been listening to WLRN for a while, you may remember Donna from last year's Python Challenge.)
But reporters don't just like pythons because they do well on social media. The snakes are also a starting point to talk about a larger issue: how human interference has made the Everglades vulnerable to problems like invasive species.
(Although, yes, some journalists just really like gallivanting around the Everglades in pursuit of giant snakes.)