Brazilian investors buy Miami real estate. Haitian earthquake survivors attend South Florida schools. It's clear what happens in Latin America and the Caribbean has a profound effect on South Florida.WLRN's coverage of the region is headed by Americas editor Tim Padgett, a 23-year veteran of TIME and Newsweek magazines.He joins a team of reporters and editors at the Miami Herald, El Nuevo Herald and NPR to cover a region whose cultural wealth, environmental complexity, vast agricultural output and massive oil reserves offer no shortage of important and fascinating stories to tell.
Capriles in Miami: Are Venezuelans For Henrique Or Just Against Nicolás?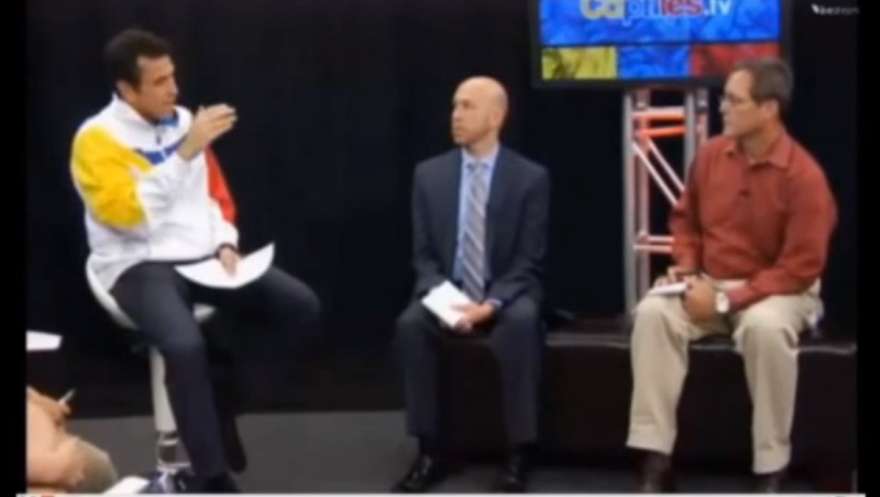 I know Henrique Capriles speaks decent English. So because I work for English-language radio, I asked him during his visit to Miami last week if I could put a question to him en inglés.
"Go ahead," he told me. "But I'll answer it in Spanish."
I'd forgotten one of Capriles' rules as the political opposition leader of Venezuela: To keep the ruling socialist revolution back home from branding you as a puppet of the U.S. "empire," it's best to avoid being recorded speaking yanqui – especially when you're in Miami, the counterrevolutionary capital.
Given Venezuela's absurdly polarized politics, that's probably a smart guideline. And it's a reminder that the 41-year-old Capriles was the first opposition politico in Venezuela to get it.
By that I mean Capriles realized that if you were going to have any success challenging the popular if radical left-wing government of President Hugo Chávez, who died last March after 14 years in power, you had to understand why Chávez got elected in the first place.
And that starts with acknowledging – as so many of Chávez's inept opponents for so long refused to do – the epic corruption of Venezuela's 20th-century elite, which helped keep half the population in poverty even though the nation has the world's largest oil reserves.
RELATED: How Venezuela's Maduro Mess Keeps Getting Worse
"Chavez did well to identify poverty as a priority in Venezuela," Capriles told me when I first interviewed him in early 2012, some eight months before he would face el comandante in last October's presidential election. "And if we as the opposition don't engage that social reality here, then it's game over for us."
Even though Capriles was able to reduce Chávez's usual victory margin, he still got trounced. But if it felt like game over for Capriles and the opposition at that point, Chávez's death from cancer a few months later was a political game changer.
That was largely because Chavez's hand-picked successor, Nicolás Maduro, possessed little of his mentor's charisma – and because with Chávez gone, Venezuelan voters suddenly saw the messes he left behind, from economic mismanagement to South America's worst violent crime, more clearly.
Capriles, as a result, came stunningly close to defeating Maduro in April's special presidential election. He insists, in fact, that only fraud kept him from winning that race.
Little wonder that Capriles, who is governor of Venezuela's Miranda state, was greeted like a rock star last week when he visited Miami and its large Venezuelan diaspora community. Those ex-pats roundly oppose Maduro and the Chavista government, and they're encouraged by recent polls that suggest a majority back home now feel as they do.
"We're in a different scenario now," Capriles told an ex-pat throng at the James L. Knight Center downtown in a speech hosted by Miami-Dade College. "I believe we're the majority. Today a majority of Venezuelans crave change."
The next day I was sitting on a sort of Meet-the-Press panel, throwing questions at Capriles on a makeshift TV set in Doral, Miami's largest Venezuelan enclave. The show was part of Capriles TV, the online outlet he set up to get around the fact that the Chavista government makes sure he doesn't get much face time on real television back in Venezuela.
So how, I asked Capriles (en español, por supuesto), can he be so sure that a majority of Venezuelans now prefer him and his centrist movement, which wants to establish a more Brazilian-style "third way" mix of capitalism and socialism?
"Because I think the social and economic situation we're living in Venezuela," he told me, "make any argument for the current government indefensible."
True, Maduro seems helpless to rein in crises like spiraling inflation, currency chaos, chronic shortages of food and other basic products, massive power outages, dysfunction within the state-run oil industry and a murder rate that leaves as many as 50 people a week dead in the capital, Caracas.
But the next presidential election won't be held until 2018 (although Maduro could face a recall referendum beforehand). And even if Venezuelans find Maduro's performance "indefensible," that's not the same thing as being convinced at this point that Capriles is the man to replace him five years from now.
I'm confident that the opposition to Maduro is increasing by the day, says Félix Martín, a South American politics expert at Miami's Florida International University. But I'm not certain if that opposition is actually growing in support of Capriles [or if it is] mostly against the present government in Venezuela.
"I'm confident that the opposition to Maduro is increasing by the day," says Félix Martín, a South American politics expert at Miami's Florida International University. "But I'm not certain if that opposition is actually growing in support of Capriles [or if it is] mostly against the present government in Venezuela."
Venezuelan ex-pats here like Hilda Páez of Doral want to believe the former. Capriles "has an alternative [project] and he's offering a different look," she says. "I hope he will still have the energy [by 2018] to keep on going and don't give up."
Capriles at one point last week tried to put it in terms Miami would best understand. Socialist Venezuela, he insisted, is not communist Cuba: "Just because they couldn't throw out Fidel Castro," he said, "doesn't mean we can't throw the Chavistas out of power in Venezuela."
But, like any good Venezuelan, he tossed in some levity. He promised to send boats to Miami to bring Venezuelan ex-pats back home, if only because Miami's beaches are lame compared to Venezuela's.
That's at least one thing everyone in polarized Venezuela can agree on -- in any language.
The Latin America Report is sponsored by Espírito Santo Bank.