Taking The Plunge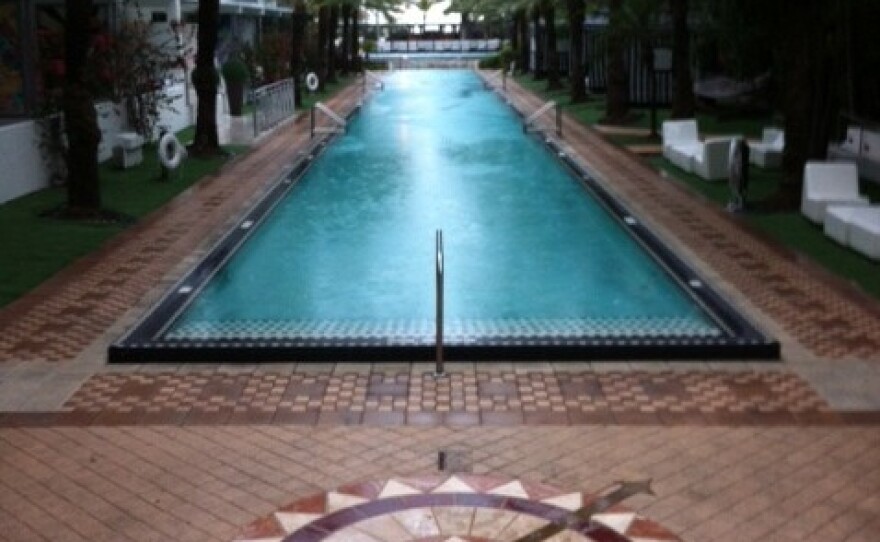 UPDATE June 6, 2013 14:43 p.m.: (AP) Esther Williams, the swimming champion turned actress who starred in glittering and aquatic Technicolor musicals of the 1940s and 1950s, has died. She was 91.
Williams died early Thursday in her sleep, according to her longtime publicist Harlan Boll.
Following in the footsteps of Sonja Henie, who went from skating champion to movie star, Williams became one of Hollywood's biggest moneymakers, appearing in spectacular swimsuit numbers that capitalized on her wholesome beauty and perfect figure.
Momentum Dance Company performs water ballet in two pools at the National Hotel tonight (Thursday) at 7 p.m. The performance is free and open to the public. It should last about half an hour. The event is part of the Miami Dance Festival.
Momentum's water ballet performance has some of the same elements as the synchronized swimming seen in Esther Williams movies or in Olympic events. With all respect to Esther Williams, this is a new form of water performance. Momentum's artistic director, Delma Iles, points out that Momentum's performers are dancing in the water and not swimming. Under the Sun host and senior producer, Alicia Zuckerman, met up with Iles and the dancers at the National Hotel (listen on the player above).
Florida has a rich history of aquatic performance. Below, see pictures and videos of some of the highlights. Do you have a friend or relative who participated in or has a story about these elaborate water performances? Leave a comment here or drop a line on our Facebook page.
In the 1920s and 1930s, the Biltmore Hotel in Coral Gables hosted elaborate water performances in their Olympic sized swimming pool. These Sunday aquatic galas featured synchronized swimming and alligator wrestling. The shows were known as "Alexander Ott's Water Follies" and starred Ott's son, Jackie Ott, "the Aqua Tot."
According to Bruce Newman in a 1994 Sports Illustrated article,
He became friends with headliners such as Olympic skater Sonja Henie, the Flying Wallendas and magician Harry Houdini. The great Houdini had himself shackled and locked inside a trunk, then lowered into the Biltmore pool, a watery grave from which he escaped by the narrowest of margins.
The lovely and athletic Esther Williams was a silver screen darling of the 1940s and 1950s. A few of the heavily choreographed musical movies she starred in were filmed in Florida. Below is a scene from the movie, Million Dollar Mermaid (1952) filmed at the Raleigh Hotel in Miami Beach. In homage to Williams, there is now an Esther Williams Suite at the hotel.
http://www.youtube.com/watch?v=vclZeEM0zEk&feature=player_embedded
Williams also filmed Easy to Love in Florida–this time at Cypress Gardens. According to writer Bruce Newman, MGM Studios built a swimming pool in the shape of the state of Florida. Until it closed in 2009, the park was known for its highly choreographed water skiing shows .
Underwater performances were plentiful in mid-century Florida–in tourist spots like (the still open) Weeki Wachi Springs, in North Central Florida and Wakulla Springs, in the Panhandle, were unparalleled for their underwater performances. Men and women posed, danced, flipped and dressed as mermaids while using air hoses to breathe during regular tourist performances.
http://www.youtube.com/watch?feature=player_embedded&v=ONUK4jQO0-0
Inspired by such vintage performances, modern performers in South Florida have revived underwater entertaining. Marina Duran, or "MeduSirena Marina" performs as a mermaid along with her Aquaticats during weekly shows at the Wreck Bar in the Sheraton Hotel in Fort Lauderdale.
The music in this piece includes the score from the Esther Williams movie, Million Dollar Mermaid and the song,"Japura River," by Philip Glass.