'Swamp Therapy' Hikes Aim To Connect South Floridians To The Everglades
Editor's note: This story was reported before the guidance for people to stay home. We encourage people to follow social distancing guidelines. Big Cypress National Preserve, as well as the Everglades National Park are temporarily closed.
WLRN depends on donors to remain South Florida's leading nonprofit, most trusted source of news and information. Support our mission by giving monthly as a sustaining member of Friends of WLRN or make a one-time donation of your choice. Thank you. Click here to give.
On a cool Sunday in January, Big Cypress National Preserve is alive.
Alligators sunbathe on the pond below a wooden platform. A tall, slender egret majestically stands on top of some rocks. A great blue heron swoops into the water for a kill. An anhinga spreads its black wings, airing them out before it takes flight.
A small group of people gathers at the wooden rail of Big Cypress National Preserve for an event called Swamp Therapy, a hike that involves art, mediation, and activism, created by Yadira Capaz. She wants people to connect with the Everglades.
"Lets connect to the swamp, let's learn from the swamp, let's listen," she said.
Before the hike begins, the group sits cross-legged in a circle, a few feet before the entrance to the trail. Capaz burns sweetgrass, which is considered a sacred plant for some indigenous tribes in North America. After everyone introduces themselves, Capaz gives a "mini history lesson" on some of the indigenous people of the area.
"The original, native people of this land had to forsake it," she says.
She talks about the Calusa tribe, the Seminoles, and the Miccosukee. "Those legacies are still alive, those people are still here with us," she says. "They're not abstract."
Incorporating indigenous knowledge and history is a big part of Swamp Therapy. It's how Capaz tries to "decolonize" the hike.
"It's a really big word right? What does it mean to decolonize?" she asks. "For me it really starts with learning about indigenous people, understanding the history of the land that you're on, and finding a way to listen to the wisdom that they have kept and share."
Capaz left Cuba when she was 8 years old, and immigrated to Miami with her family. She has Yoruba and Taino ancestry. When she talks to the group she acknowledges that she is not Miccosukee or Seminole. She says she is not trying to steal from other people's cultures, but rather to share their knowledge.
"A big part of relating to indigenous struggles and that wisdom that they have is not allowing it to be erased," she says. She adds that growing up in Miami, she didn't really see indigenous history.
After the history lesson the group heads to the mouth of the trail. The zoom of passing cars begins to fade and the sounds of the Everglades begins to cascade in — the loud caw of a crow, the rustle of leaves, the steady crunch of steps.
Capaz begins the hike with a "seven directions prayer," a ritual she learned through teachings with the Anishinaabe tribe. She asks the group to face the east, arms outstretched towards the sky.
"We are here saluting you, opening us in the direction of the east to our journey, thank you sun for greeting us in this direction," she says.
Then follows the south, west, north, the earth, the sky, and finally within, or the heart. The group places their hands over their chests.
"Hello heart. Thank you for being here," she says. "You're being called to connect and open and be vulnerable, and remember, and exist as human beings, not as like wandering meatheads," she says.
Then, they begin the hike.
Effects of Being in Nature

While Capaz is not a trained psychologist, she says being outdoors is therapeutic. Hence, the "therapy" part of Swamp Therapy.
"So, I might not be a trained psychologist but the ecosystem itself is doing a beautiful, profound, job," she says. "It is therapeutic to just go there."
A growing body of scientific research suggests that being outdoors has positive effects on people's health: makes people happier and less stressed, reduces risks for diabetes, cardiovascular and other diseases.
After the hike, the group discussed how they felt.
Ana Giselle Peña, who has lived in Miami for 19 years but doesn't typically go on hikes, said she felt more relaxed.
"It was amazing," she said. "I had a lot of time to think, to meditate, while we were walking, so I feel that I [had] a very productive day, like I was working from 9 to 5 on myself."
Alexander Zastera, a local artist, echoed the sentiment.
"Stuff like this helps me to completely feel like, 'Wow, my brain doesn't feel cluttered, it feels very open.'"
However, statistics show that national park visitors tend to be overwhelmingly white. A national park service report from 2010 that compares Census data to statistics on national park visitors, states that 95 percent of national park visitors were white, 1 percent or less were black, and 16 percent were Hispanic.
"I've become accustomed to just expecting that I'm not going to see as much diversity in these places as I would like," said DePaul Vera, who is a queer person of color.
Capaz said she noticed the group was more diverse than the rest of the visitors that day, but it's not something she consciously tried to do.
"It is a space of diversity because of who I am," she said. "And the people who are already organically part of my circle."
Group Dynamics
The hike is atypical. It's a collective experience, Capaz chimes in when she knows something about a plant, or an animal, but encourages the group to share too.
"It's less of a guided tour, or a guided hike through nature where I'm supposed to be the expert," she says. "But it's really about learning together and co-creating and connecting in our own way and feeding of off each other."
During the hike, Capaz points out coco plums, palm fronds, cypress trees, a red heron. Members of the group point out things that catch their eye — butterflies, spiderwebs, flowers and birds.
Vera observes the sound and colors of the palm fronds: "You see all the leaves that ... have some type of curve to them, and you see all the palms that are really straight."
Zastera talks about the invasion of snails plaguing the Everglades.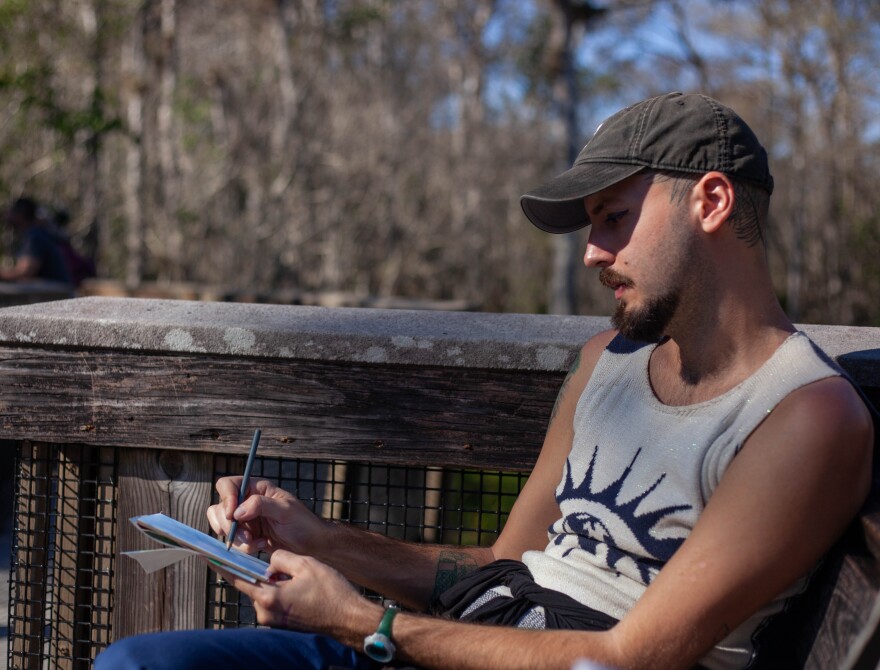 The hike goes on like this, a conversation, rather than a lecture.
The hike ends at Kirby Storter Roadside Park, a smaller trail a few miles away from Big Cypress, where the group finishes by making art.
They draw, write, play instruments.
"It's really in that quiet that you start to appreciate the beauty of this ecosystem and the subtlety of its complexity," Capaz said.