Coronavirus Live Updates: State Reports Lower Number On Sunday, Miami-Dade Tops 2000 For 12th Day In A Row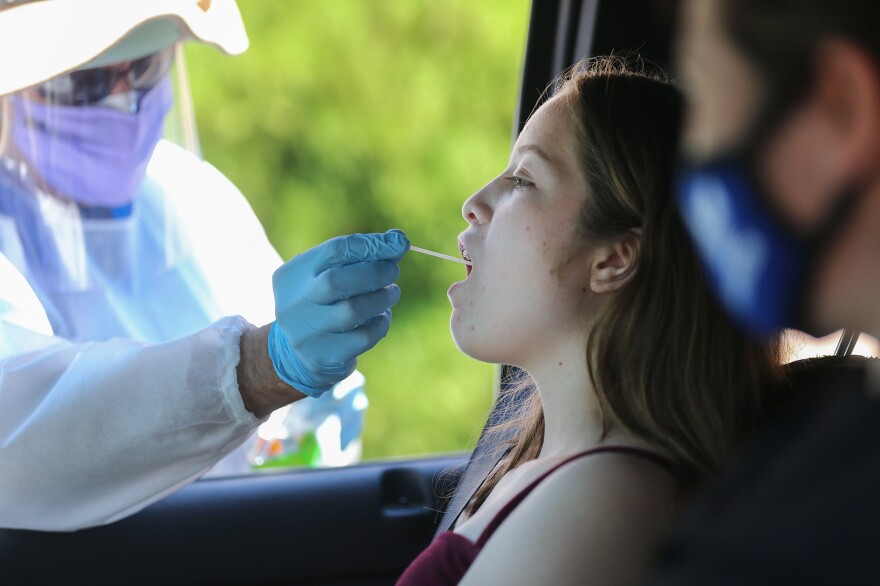 This post will be updated today, Friday, Dec. 18, and through the week with the latest information on COVID-19 in South Florida.

WLRN staff continues to add to community resource lists, including this article on where kids and families can get food while schools are closed, and this post about whether and where to get tested for coronavirus.
The dedicated website for the Florida Department of Health, including information about symptoms and numbers of cases, can be found here.
The dedicated website from the U.S. Centers for Disease Control and Prevention can be found here.
To receive WLRN's coronavirus updates newsletter on Wednesdays and Saturdays, sign up here.
QUICK UPDATES
State Reports 8,401 New Cases Sunday, More Than 2,000 Of Them In Miami-Dade
Updated Sunday at 3:40 p.m.
The state of Florida's COVID-19 dashboard reported 8,401 new cases, the fewest in 12 days, but more than 2,000 new cases were from Miami-Dade for the 12th consecutive day.
Throughout the pandemic, the Sunday case numbers have tended to be lower than the rest of the week because less data is collected and entered on the weekend. Sunday's state total was the lowest for any day since 7,985 on Dec. 8.
Another 95 resident deaths and two non-resident deaths brought Florida's pandemic totals to 1,201,566 cases, 20,568 resident deaths and 20,861 total deaths.
—David J. Neal / Miami Herald
Read more from our news partner the Miami Herald
Coming To Miami-Dade School Parking Lots This Winter Break: Free COVID-19 Testing For Kids
Updated Friday At 3:50 p.m
A blue bus will replace the yellow ones normally parked in some Miami-Dade school lots during the holiday break.
The University of Miami's pediatric mobile unit will visit six Miami-Dade County high schools Dec. 21 to 28 to offer free COVID-19 tests for people ages 4 to 18. The PCR tests are being offered both by appointment and walk-up.
The testing tour is being put on through a partnership between UM and Miami-Dade County Public Schools — and it's being advertised as testing for students in the district — but Dr. Lisa Gwynn, director of the UM program, said children from other counties would not be turned away.
Children have to be accompanied by parents to get tested. More information here:
— Jessica Bakeman/WLRN News
You'll Have To Hurry Home. Miami-Dade Changes Curfew For Christmas Eve, New Year's Eve.
Updated Friday At 7:00 a.m
Miami-Dade Mayor Daniella Levine Cava announced Thursday that she would relax the county's midnight curfew on Christmas Eve and New Year's Eve, allowing residents to stay out until 1 a.m. for the holidays.
Levine Cava met with a handful of mayors and hospitality leaders during the week to discuss the plan to loosen the curfew. During a meeting of the Miami-Dade County League of Cities, a group of municipal mayors voted to support Levine Cava's proposal, according to Richard Kuper, the executive director of the organization. There was no objection.
"We need to make sure we are keeping residents safe as they celebrate through encouraging social distancing, mask wearing and communicating about health behaviors," Levine Cava said during a video statement Thursday evening.
— By Martin Vassolo, Samantha J. Gross and Douglas Hanks / The Miami Herald
Read more from our news partner at The Miami Herald.
Miami Beach Will Distribute $100 Publix Gift Cards To Residents As COVID-19 Aid
Updated Friday at 6:37 a.m.
Low-income Miami Beach residents who need financial help due to COVID-19 can apply to receive a $100 Publix gift card from the city.
The city, which announced the program Thursday, is distributing 1,000 gift cards on Tuesday — first at 9 a.m. at Miami Beach Police headquarters (1100 Washington Ave.) and then at 3 p.m. at the North Beach Bandshell (7275 Collins Ave.).
The program is for Miami Beach residents only. To receive a gift card, recipients must present ID and sign an application listing their household income and confirming that COVID-19 hurt them financially.
— By Martin Vassolo / The Miami Herald
Read more from our news partner at The Miami Herald.