Artist Journeys: Broward County's First Sistrunk-A-Fair Showcases Local Black Art
Fort Lauderdale Art & Design Week is meant to showcase the city as its own art-worthy cultural destination. Artists' works will be on display across the city throughout this week, ending on Jan. 27.
A big part of the show — now in its third year — touts "the art fair on the water," designed for people to boat to empty multimillion-dollar properties filled with works of art on the Intracoastal.
But this year, Fort Lauderdale Art & Design Week also offers the first ever Sistrunk-A-Fair, in hopes of highlighting the black voices in the northwest part of the city.
South Florida black artists will be exhibiting their original works of art in three separate gallery spaces: The African American Research library, Old Dillard Museum, and the Midtown Commerce Center.
WLRN spoke with two of the artists participating in the Sistrunk-A-Fair about their art, the specific pieces they'll be showcasing, and why they chose to highlight some local Broward County history in their creative process.
JEAN DENIS LOUIS:
B.A.S.E Exhibit at the Old Dillard Museum.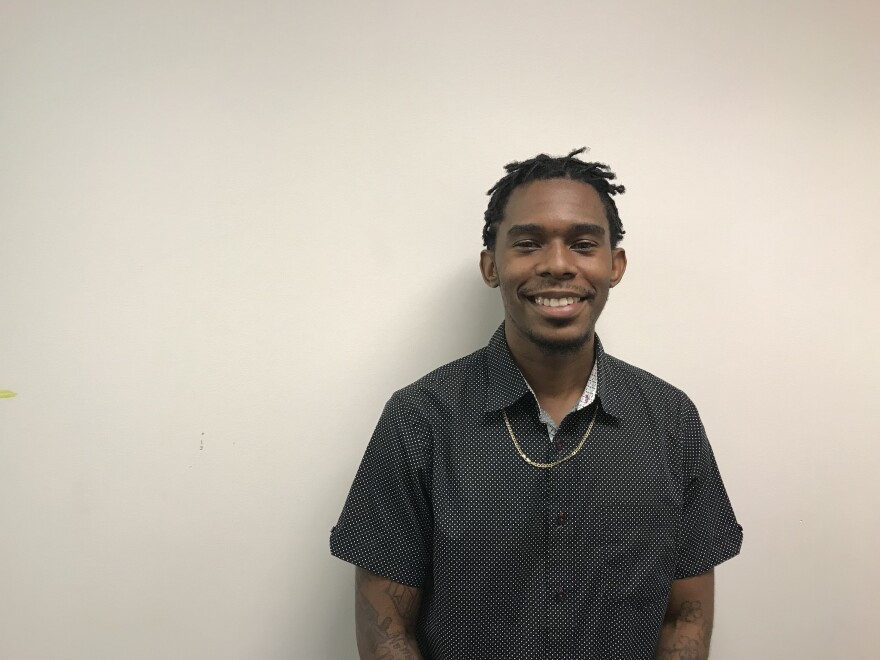 I also go by J.D. Raw Talent. I'm 29, born in Miami - raised in Fort Lauderdale Florida. I am a part owner of a tattoo shop in Fort Lauderdale, named Empire Ink.
I have this piece that I'm going to put into the art fair. It's a fairly good-sized piece. It's acrylic on canvas - I didn't do any mixed media this time around - of Esther Rolle.
From what I remembered her, from being a kid, she was the mother from Good Times. And it was just so difficult at first to find a really nice picture of where I wanted her to shine... You want to almost pay homage to such a great lady.
She's from Pompano [Beach]. She did a lot of dope things from what I researched. It's almost like you kind of know her. She's like the only Florida Evans that I trust. In this piece I was able to put in a spew of colors in her hair, I added a couple of stars to show that she was bigger than what we saw her on the TV shows. She's almost universal.
It took me a month, or so, to do this piece. I thought it was just such a clear reference. She was smiling. It's not a candid picture. You could tell she actually took the time to have a photographer take a picture for this.
I painted it at my tattoo shop. I have a little space in the back. I had an apron on because I liked to paint messy. My style is, kind of, nice and loose. I like to just paint crazy.
For what the piece was - from somewhere from back in the day - you want to kind of show that emotion. So I put on some Motown music.
I knew I was onto something when I finally noticed that I just didn't want to keep covering the same piece over and over and over again. I just felt right.
I didn't feel like I had to force it out of me because it wasn't so difficult to make sure that okay, this is Esther Rolle on this canvas.
I wanted it to be portrayed as like, 'oh that's Florida Evans!' Everybody smiles when she comes around. Like that's the mother of the House - and everybody loves to see their mom come around.
Read More: Broward County Artitst Discovers Family History Through Her Work For The Sistrunk Art Fair
WILBERT SIMPSON JR.
'We Love Art Too' Exhibit at the African American Research Library
I'm pretty known as Will Simpson, but I sign my art as my full name, Wilbert Simpson Jr. I'm 36 years-old and I live in Oakland Park. I work for the City of Pompano [Beach] and I work for the City of Lauderdale-By-The-Sea. I do photography, I paint, and I'm a musician. I'm the person from the neighborhood that you just say hi to, I'm not that artist has the earring in his nose and colorful hair and all that stuff - I'm just like a regular person.
The piece I'm looking at right now is called 'Beauty.' It's 30 in. by 30 in., and it's acrylic paint on a canvas. It's a portrait of a woman's face. The image itself is no particular person - so no, this piece is not based off a historical figure with Broward - but most of my pieces are not.
I feel like the culture is not actually based off of a particular person - it's based off of who you are as a person.
And I just put some figures together, that's why the eyes are closed, I don't want to give it a specific image.
A lot of people have their thoughts on who they think it is, but I like that. I like them to think, or want to figure it out. 
She's tilted to the side, and she has on big earrings. Her hair is wavy - it's pretty much filling up half of the canvas. She had a nice full lips. I'm a real fan of full lips. She has a smirk on her face letting you know that, she knows that she's beautiful. I based it of the natural hair. I love natural hair and how it flows.
I actually did it live in Miami, I want to say three years ago.
This Sistrunk-A-Fair, it's me bringing our black culture to light. To bring the culture into me, and make me see it as a light, and for me to come back and be a part of something like this…It's major for me to be a part of it.
A thing I go by, 'leave room for mistakes.' I tend to create a lot of mistakes, but a lot of beauty come out of mistakes as well. I wanted to bring it in because I knew it was going to be a lot of black folks here and I want them to see the beauty in natural hair, the beauty in just being who you are and being able to bring the inside, out.
If you go:
The week of Sistrunk-A-Fair events runs from Jan. 19 through Jan. 27. It is being organized by several cultural initiatives, including Art n Soul and Art Fort Lauderdale. Events:
- C.R.E.A.T.E Art Exhibit: Cultural Renaissance Establishes A Tactical Revolution
Midtown Commerce Center, Fort Lauderdale. Opening: Jan. 18 6 - 8 p.m.
Also open 6 - 8 p.m. Monday through Friday. Runs through Jan. 26.
- 'We Love Art Too' Art Exhibit:
African American Research Library, Fort lauderdale. Check for viewing times.
- B.A.S.E. Art Exhibit: Broward's Artistry And Soul Experience
Old Dillard Museum, Fort Lauderdale. Open from 1-4 p.m. Monday through Friday. Runs through Jan. 25.
- Art Warz
Midtown Commerce Center, Fort Lauderdale. Jan. 26 from 6 - 10 p.m.