Outside 2020 Presidential Debates, Protesters React to Mayor Messam Never Qualifying
In a Fortune Article released earlier this week, Miramar Mayor Wayne Messam blasted the Democratic National Committee's systemhe claims prevented him from qualifying for the first 2020 Democratic presidential debates.
Messam, the son of Jamaican immigrants, grew up in rural South Bay, Florida.His father cut sugarcane as a contract farm worker, and his mother fed migrant field workers.
But despite his success as a starting wide receiver for Florida State University, winning a Miramar city commission seat in 2011 and rising to become that city's mayor, he wrote that this nation must take a hard look at an election system that "puts some candidates at a financial advantage over others," and media that "selectively features candidates on TV while denying others the same opportunity."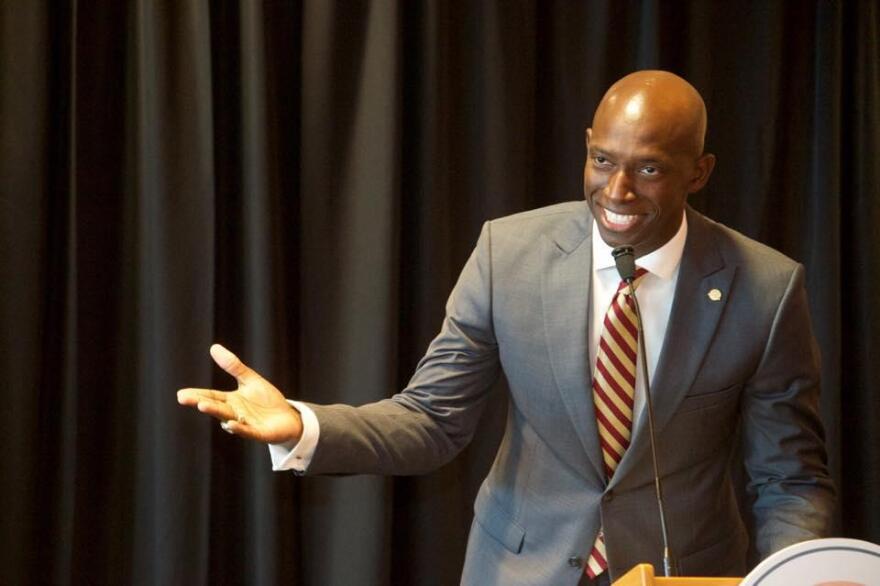 Democrats and Republicans protesting outside of the Adrienne Arsht Center during the second debate night and across Miramar shared their reactions to Messam never qualifying to be on stage.
Kendall resident George Marquez said he runs a local nonprofit called Dungeons and Drag that creates a safe gaming and shelter space for LGBTQ communities. He said he wasn't aware that Messam planned on showing up to the Arsht Center at all — and Miramar is close enough where it would be easy to take advantage of all the free press.
"Even if you're not picked first, wouldn't you rather come over here and be amongst the people and spread your message around here in a grassroots way," Marquez said.
Former Hialeah Mayor Julio Martinez and president of the Hialeah Republican Club stood waving flags with Republican protesters across the street from the Arsht Center. He said it's disappointing there's no candidate from Florida represented on stage. But he also didn't think Messam can blame the DNC polling and funding qualifying system for his absence.
"Anyone that says that, all they have to do is look back at 2016. Donald Trump didn't have a shot in the world at becoming president, even a candidate for the Republican Party," Martinez said. "And look what happened. He didn't know anything about politics. All he did was know about business."
When asked about a presidential candidate right in their backyard, many had never even heard that Messam was running.
Lauderdale Lakes resident Joseph Barass works in Miramar, and when asked about Messam's campaign, said he wasn't familiar. But, he said, there's nothing wrong with Messam's aspirations, and he wishes him well.
"I mean, look at our current leader, he had no experience in politics at all. He was a businessman. He's running the country," Barass said.
"I don't know if he's doing a very good job. Obviously I don't think you should be a novice if you're gonna run for office, but we have a person who's a complete novice now."