Georgia O'Keeffe Exhibit In West Palm Beach Focuses On How The Artist Constructed Her Own Image
The artist Georgia O'Keeffe is most famous for her paintings of flowers, New York skyscrapers, and the American Southwest.
A new exhibit at the Norton Museum of Art in West Palm Beach turns its eye to a less-studied image O'Keeffe constructed – her own.
It's the first show to incorporate O'Keeffe's clothing alongside her paintings and photographs of her. West Palm Beach is the show's seventh and final stop.
The artist was married to famous photographer Alfred Stieglitz, and was a frequent subject of his photos. Together, they created a signature image of O'Keeffe early on that she would replicate with other photographers throughout her life – dramatic, often serious, and frequently wearing black and white.
"The clothes are part of how O'Keeffe promoted a particular image of herself as modern," said Ellen Roberts, the Norton's Harold and Ann Berkley Smith Curator of American Art.
The exhibit runs chronologically, and features photographs of O'Keeffe from her school days up through the end of her life in New Mexico. O'Keeffe's style progresses, too – from garments she made herself during the lean years of her early career to designer items she commissioned after her work had brought more fame and wealth.
Juan Hamilton, O'Keeffe's companion toward the end of her life, brought the clothing to the Georgia O'Keeffe Museum in New Mexico after her death. Art historian Wanda Corn then began to sort through it, identifying what she believed was made by O'Keeffe herself and what had designer labels or other indications of being commissioned or purchased. The clothing, in turn, forms the backbone of the exhibit currently on display.
"It turned out that she had kept a lot of her clothes throughout the years," said Roberts, the Norton curator. "She still has things from the 1920s, and she died in the '80s."
The clothing speaks to O'Keeffe's practicality. Her preference for black and white made clothes easy to match. When she found a garment or shoe she liked, she'd purchase duplicates or multiple colors.
"They worked for her, it was easy, and that way it was almost like a uniform," said Roberts. "She could put it on every morning, she didn't have to think about it, and that way she had more time to paint."
Still, O'Keeffe's artistic sensibility and creative influences come through. Blouses and dresses attributed to the artist show elegant, precise pintucking and pleating, and many feature delicate ties at the neck. Her interest in Japanese culture bled into her wardrobe, too – the traditional kimonos, haoris and shoes she wore are on display alongside photos of O'Keeffe wearing them. As she spent more time in the Southwest, denim and more colorful clothing became a larger part of her wardrobe.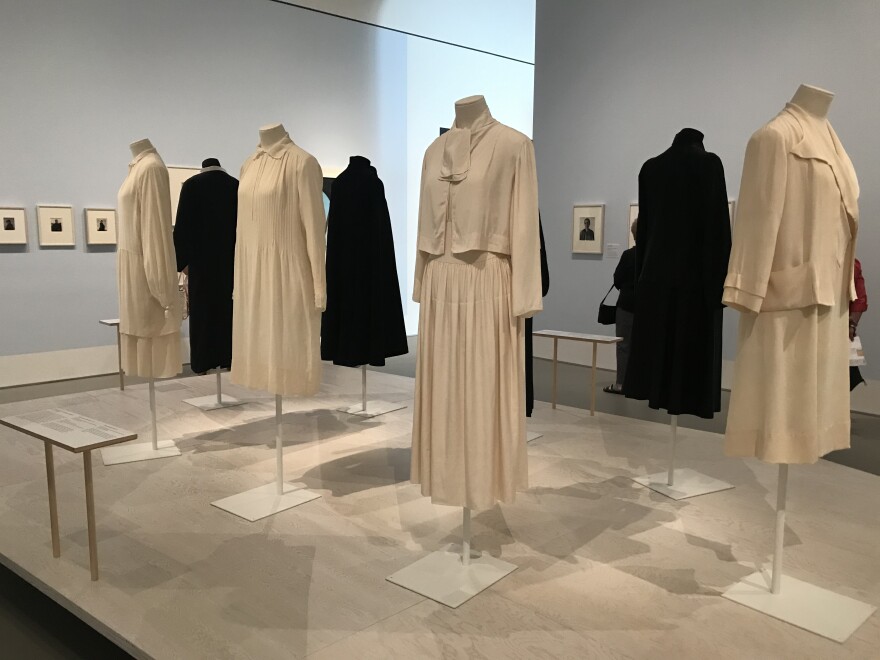 "Wanda [Corn] also got very fascinated with the fact that there are certain formal elements in her clothes that are consistent with formal elements in her paintings," said Roberts. "So, for instance, she likes this kind of triangle form, and then you see the triangle form in her paintings."
The timing was right for this exhibit because the Norton hasn't showcased O'Keeffe in more than a decade, said Roberts – though the artist has been part of larger shows with multiple artists. Roberts said the exhibit has also allowed the Norton to test the limits of its remodeled space, which was finished in February.
"We could not have done a show like this before we expanded because we didn't have enough contiguous special exhibition space," she said, "so it's a nice way for us to showcase this new space."
The exhibit will be on display at the Norton Museum of Art through February 2. The museum is also holding a series of events related to the O'Keeffe show.