Sundial: Guerrilla poetry set to appear on billboards, ice cream and parking tickets in Miami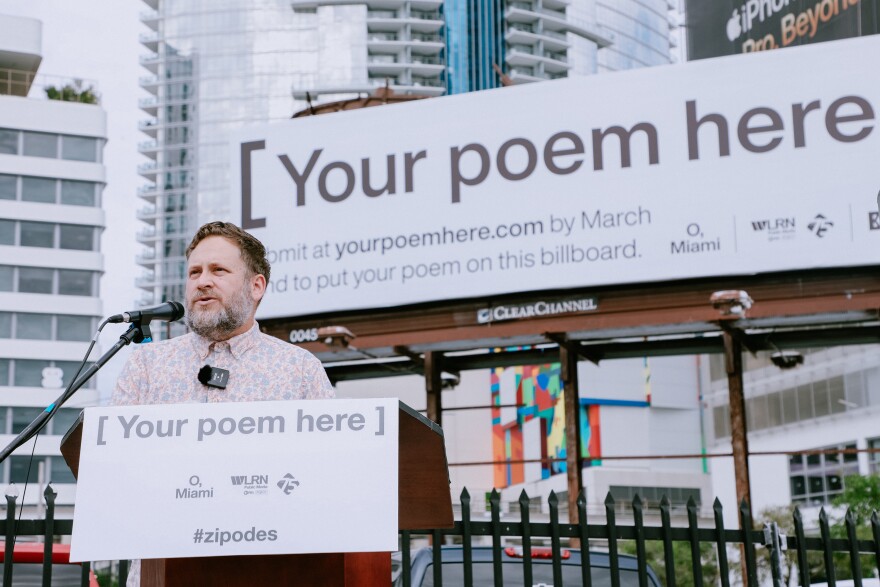 We're on a busy street corner in downtown Miami… to read poetry.
We set up a lectern and a microphone. Traffic flies by on Biscayne Boulevard. A jackhammer pounds away somewhere. People slow down to watch.
We look like we might be protesting something obscure. Somebody honks in support.
Behind us a towering billboard reads, [Your poem here.]
It's almost April. And that means it's time for poetry to pop up in unexpected places throughout Miami-Dade County — thanks to O, Miami. The poetry foundation floods the county with guerrilla poetry all month where you least expect it.
On a water tower in Miami Beach. On fake parking tickets in Coral Gables. On this billboard across from the Miami Heat arena.
We're here to kick things off with Zip Odes. They're quick, little poems about the zip code where you live. Each number tells you how many words you get to use in each line. This year, the best Zip Ode will end up on this billboard for all of April.
I read my Zip Ode for 33134 to help get us started.
See the chicken
In that bag?
Santería.
Don't touch it!
Miami has its rules.
You've got until today, March 22, to send in your own Zip Ode for a chance to have your poem featured on a billboard in Downtown Miami. Submit yours here.
You can also submit a Zip Ode throughout April for a chance to participate in O, Miami and WLRN's Zip Ode finale on April 26. Selected poets will be able to read their work in front of a live audience at the Vizcaya Museum & Gardens.
Last week, I asked the founder of the festival, poet P. Scott Cunningham, to follow me back to the studio after our little publicity stunt.
On the March 22 episode of Sundial, I wanted to know how he got the idea for this kind of radical festival and about some of the other weird places we'll find poetry in April. He also tells us why he never writes his own Zip Odes.
On Sundial's previous episode, a former public radio journalist told us why he ran away to the circus. Jack Lepiarz is a former WBUR anchor who recently decided to become a full-time whip performer. He travels around the country performing his whip tricks at Renaissance fairs.
Listen to Sundial Monday through Thursday on WLRN, 91.3 FM, live at 1 p.m., rebroadcast at 8 p.m. Missed a show? Find every episode of Sundial on your favorite podcast app, such as Apple Podcasts, Stitcher and Spotify.