Three Days Of Police Brutality Protests In South Florida
Until this past weekend South Florida had been relatively quiet amid a large, nationwide protest movement in response to several killings by police officers.
That changed Friday, when around 400 protesters shut down Interstate-195 in Miami. It was rush hour during Art Basel weekend.
There was a smaller protest in Fort Lauderdale -- around 100 people -- on Saturday and another Sunday in Miami maxing out at 200 people.
The protesters walked in solidarity with others around the world this weekend -- from Detroit to Delhi, all in response to the deaths of Michael Brown and Eric Garner. The two unarmed black men died at the hands of police. Two separate grand juries recently decided not to bring any criminal charges against the officers involved.
Saturday marked 16 months since Israel "Reefa" Hernandez died at 18 after he was tasered by a Miami Beach police officer. Reefa had been caught spray-painting the wall of a shuttered McDonald's.
Protesters in Miami say they're angry about continued racism and police brutality.
"We need justice in America," says Marc Jeannoel, who marched on Friday with his 10-month-old daughter perched on his hip. His other daughter walked farther ahead. "Black people can't be black people in America. We are human. Why can't we just live? Why can't we just breathe?"
Jeannoel wanted his daughters to see the protesters, a moment he hopes will be the start of historic change.
Dream Defender Sherika Shaw says in her life, fear is pervasive.
"We were told in school: Pull up your pants, button up your shirt and you'll be safe," says Shaw. "We now learned that that's not true and that's a lie."
Shaw was one of the leaders of the Miami protests. She says Art Basel is the perfect time to air these grievances -- an easy international audience.
"The folks who are coming need to know how the people from here actually feel. So we're here to say 'no business as usual: shut it down. No justice, no peace.' "
Some of those people who came to Miami for Art Basel ended up joining the protest, like Dan Higgins from Gainesville.
"They took over the cars, so we just jumped out the car to go walk with them," said Higgins. "It's for a good cause."
These are the first large-scale protests South Florida has seen in several years -- even the Occupy protests were relatively small compared to this.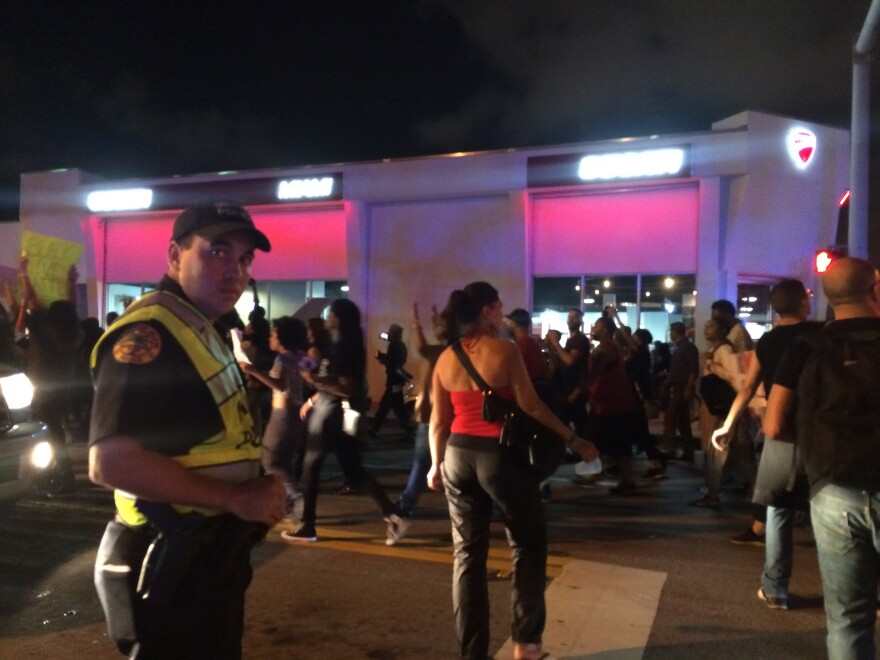 One thing that stood out in Miami was the police response. There were very few visible cops and those who were visible sported windbreakers and safety vests, not riot gear as police in other cities.
Javier Ortiz of the Miami Police Department was in charge of coordinating the police response to Friday's protest.
"We all feel that everyone has a right to express themselves," he said. "We have no problem with that. They can yell, scream, shout as much as they want. We understand that people are very upset with some of the issues that are going on with our country. We are here to support them too."
To support the protesters even as they shut down parts of the city -- at times lying down in the middle of intersections. Then, one or two people would outline people in chalk, like they do in television crime shows to mark where a dead body lies.
Protesters on Sunday shut down the I-195 again, where they walked along an empty highway. They also shut down the narrow streets of Wynwood, where they pushed through Art Basel weekend crowds.
One tactic protests leaders used to try and keep things from boiling over was to have the group walk in silence. Hundreds of people moving together with only the occasional honk, police walkie-talkie chatter and helicopter hum breaking the silence.
"We walk in silence because folks expect us to be irrational, loud, to riot," Sherika Shaw explains. "I think it shows a solidarity with one another that we're willing to do something in unison, something as hard as being quiet during a time when you want to scream. It also shows that we're not here just to make a ruckus and leave but that we're in this for the long haul and we need to save our voices for that too."
Voices that they hope people will raise at their Committee on State Violence meeting on Tuesday. There, protest leaders will debrief about the weekend's events and flesh out more concrete goals and demands.
The meeting will be held at the offices of Florida New Majority at 6:00p.m. Tuesday at 8330 Biscayne Blvd. Miami, FL.