Keys Water Utility Looks To Replace Aging Desal Plant
The Keys get freshwater from the mainland — it's pumped in Florida City and sent down a pipeline all the way to Key West. In an emergency, they can make some freshwater. But the plant that does that is obsolete and in line for replacement.
When Hurricane Irma crashed across the Keys in September 2017, it knocked over a lot of trees, and their roots pulled up a lot of water lines.
So the Florida Keys Aqueduct Authority turned off the taps. And they fired up their reverse osmosis plant on Stock Island, near Key West. It turns seawater into freshwater.
But that plant was last upgraded in the early 1990s and it's getting harder and harder to keep it running.
"We've been Band-Aiding and Band-Aiding," said Mario Suarez, the plant's foreman. "One day the Band-Aids are going to run out."
There's only one vendor who still makes the membranes that the plant uses to filter out the salt and other materials from seawater through a process called reverse osmosis. And that vendor is in Japan.
The reverse osmosis plant on Stock Island was last upgraded in the early 1990s. It can produce up to 2 million gallons a day.
The FKAA makes about 17 million gallons a day, all produced at its Florida City wellfields. Most comes from the Biscayne Aquifer, though during peak times they will also draw from the brackish Floridan Aquifer and put that water through a reverse osmosis process.
Freshwater produced at the mainland R/O plant costs three to four times as much as the Biscayne Aquifer water. At the Stock Island plant, it's five to six times as much, said Kerry Shelby, the FKAA deputy executive director and chief financial officer.
Even with a new, more efficient plant, it would probably be used only in emergencies, he said.
"Right now, because of the expense and other issues of running a plant down here, we would probably make it a last resort," he said. "Keys Energy would probably have to modify their capacity to even power the plant down here."
The new plant is in the capital budget for $50 million but hasn't been funded yet. The Aqueduct is hoping some of the money will come from federal and state Irma recovery and mitigation grants.
Meanwhile, the FKAA keeps the old plant going, flushing the membranes with freshwater three times a week (if they dry out, they don't work any more) and firing up the whole plant about once a month to make sure everything still works and produce samples for state testing.
Even though the plant is on the waterfront on Stock Island, it draws from a shallow well.
"It's better than an open sea intake because animals and algae and all that. So you're using the ground as a filter," said Dave Lheureux, a plant operator and director of the technical lab.
The plant has four sets of membrane filters, or "trains." Each is powered by a diesel motor with pumps that push saltwater through the membranes. And they have to make sure the pH is within the membrane's tolerance.
It's a noisy, complicated routine that involves checking every valve and connection to make sure everything is in the right place.
"You've got three floors of shafts and couplings connected, from the first floor all the way to the diesel room. Everything has to be in perfect alignment. Sometimes these things get out of whack. These pumps are the original ones from the '80s. And we don't like them," Suarez said. "They don't cooperate too good — there's a lot better technology out there today where you wouldn't have to do three quarters of the maintenance you do with these."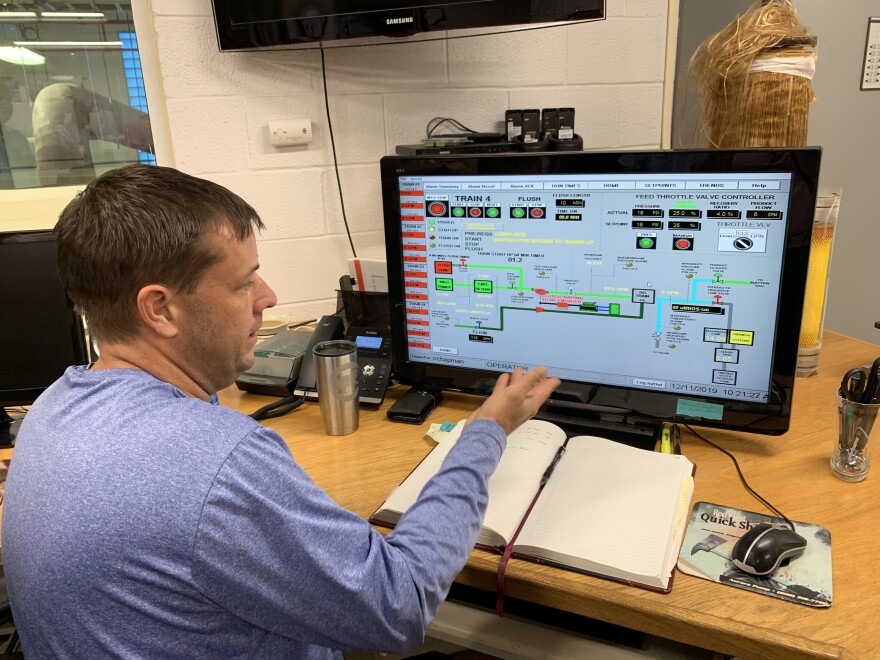 The FKAA board has still not decided exactly how large a plant to build. Shelby said it could start with a 2 million gallons a day, like the current plant, with room to expand up to 4 million gallons a day.
"In a situation where people are evacuating that might help a lot," he said. "It may not meet the full need and it certainly won't meet the day-to-day need but in an evacuation event, 4 million gallons a day might be a real game changer."