LISTEN: Opposing Sides On The 836 Highway Extension Explain Why It's Good/Bad Plan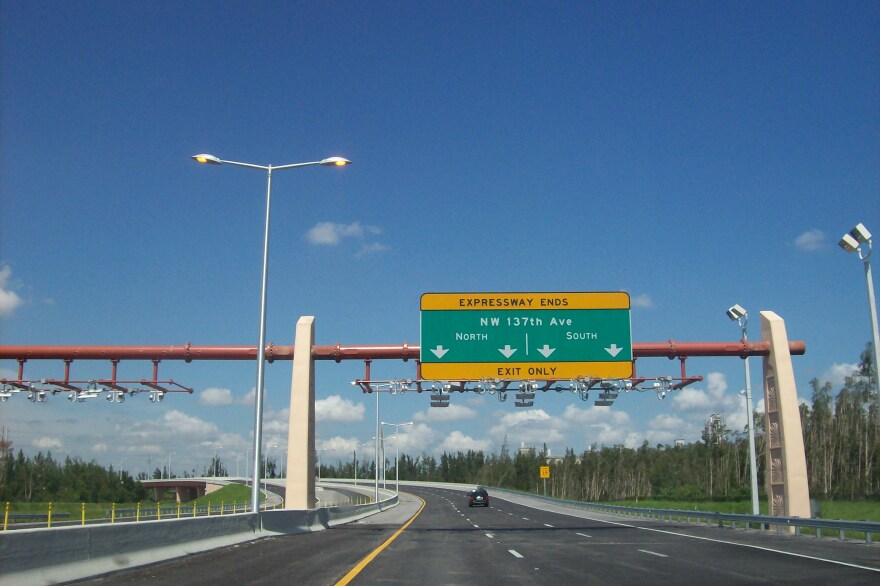 The Miami-Dade County commissioners discuss on Wednesday the future of the 836 extension proposal. It's a hotly debated topic, as traffic issues tend to be in South Florida. The Miami-Dade Expressway Authority (MDX), the organization behind the construction of the extension, argue it's necessary for alleviating congestion on major roadways from Kendall to Miami. But environmental groups are raising concerns that the freeway runs too close to the Urban Boundary Development line, established a few miles from the borders of Everglades National Park.
This week both sides were at Sundial speaking about the issue. Below you can hear interviews with Tere Garcia, spokesperson for MDX, and Diana Umpiere, organizing representative for the Sierra Club Florida focused on Everglades restoration. We have put them together, back-to-back, so you have the benefit of hearing both arguments before making a decision on where you stand on this proposal. You can also read some highlights of the conversations below.
WLRN: Why does MDX see this roadway as important for Miami Dade County residents?
TERE GARCIA: When we first started looking at this in 2007 and we did a preliminary concept report, a need was identified. And we always use the projections and the information that Miami-Dade County Transportation Planning Council has. And there was a need because population growth and traffic in southwest Miami Dade had significantly grown without the support of any type of infrastructure.
Now, this facility [the extension] is to allow or to address the existing demand and not any future demand. In fact, there have been limitations put on this in the comprehensive development plan amendment that is going on Wednesday. It says that any capacity used by this road whether its this road or whether its the local roads, it cannot be used for concurrency or to help any capacity needed by additional development."
Read more: Does Miami-Dade's 836 Expressway Proposal Fit Into The Regional Climate Plan?
WLRN: Why is the Sierra Club opposed to the construction of the 836 extension?
DIANA UMPIERE: Where this project is being planned is literally going to be very close to the Everglades that we have been working for decades to protect. And in fact, there are restoration projects in the vicinity.
The proposed alignment would go right through what is called the Bird Drive Basin, which is an important recharge area for the aquifer as well as to really provide a really important buffer. Everglades is really more than just Everglades National Park. It [Bird Drive Basin] really provides an important buffer between them [Everglades], between that area and the Urban Boundary Development Line.
Read more: Everglades Restoration Funding Could Be Imperiled By Miami-Dade Expressway Proposal, Critics Say
There are concerns among environmentalists if this highway is approved that it will lead to more development past the UBD Line. Can you speak to those concerns?
TERE GARCIA: They are putting certain requirements in that will not allow that to occur. One of them is that the project cannot be countered with any new capacity, it cannot be used to justify new development. Number two, is this project is not moving the Urban Boundary Line. And number 3 is they are requiring us to do all mitigation, any required mitigation on site. So we will have to purchase about a thousand acres that we will put into public trust to the state or to the county. And we will be preparing those lands for conservation.
Read more: It Was Once Part Of The Everglades. Now Miami-Dade Wants To Use It For A Highway
Are you concerned if this project is approved there will be further development into the UBD Line, even though there are restrictions in place to prevent that from happening?
DIANA UMPIERE: So the way I look at this, it's kind of like giving candy to a baby. You're really putting that in place. No one wants to admit it but if the road does go ahead and gets built along with the interchanges and parking areas and all the other facilities associated with it, whether you like it or not you're inviting potential sprawl. And we do know that there are landowners in that area that have considered some development projects in there. So while they might be putting certain policies in place as part of this proposal that they have right now, they can all go away. And we've seen that happen many times.