Watch PBS » | About WLRN TV » | TV Schedules » | Producing for WLRN »About WLRN Public TelevisionWLRN-TV Channel 17 is a PBS (Public Broadcasting Service) member station licensed to the School Board of Miami-Dade County, Florida. During an average month, Channel 17 reaches over 600,000 TV households in the Miami - Ft. Lauderdale area with a viewing audience in four South Florida counties, from Palm Beach to Key West. WLRN is South Florida's leading PBS Ready to Learn station airing thirteen hours of award-winning children's programming daily. WLRN-TV also presents the best of the PBS nationally recognized series to compliment locally produced content. Our prime time schedule features an eclectic array of arts, performance, science, and WLRN original documentary specials to address the diverse interests of the South Florida community.Printable Monthly Schedules »WLRN Original DocumentariesProducing award winning original programs remains a high priority for WLRN. Take a closer look at some of the incredible stories that we have had the pleasure of producing for our South Florida viewers.Learn More »
There's No Therapy Like Fishing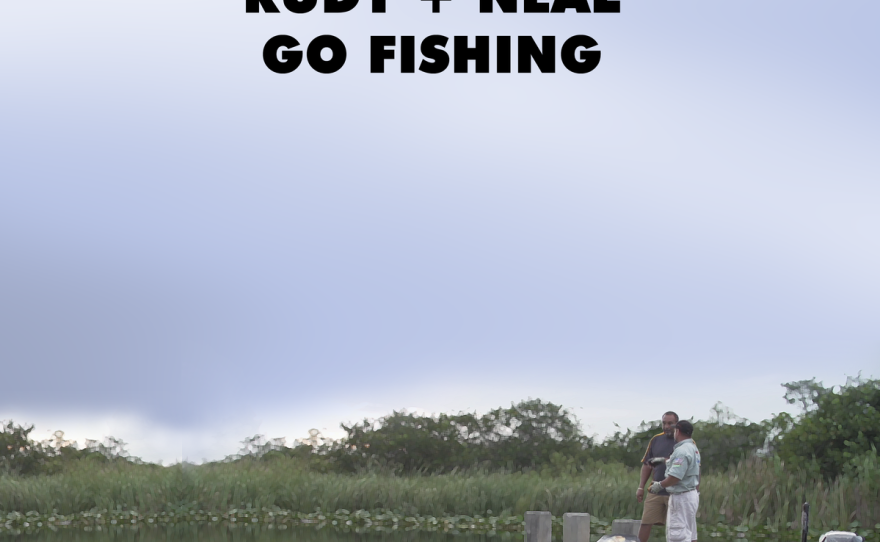 Photo courtesy of Real Pictures, LLC
First catch with veteran Rudy Watt (L) and Captain Neal Stark (R)
Photo courtesy of Real Pictures, LLC
DP/Co-Director Pablo Durana
Photo courtesy of Real Pictures, LLC
Captain Neal Stark with production crew
Photo courtesy of Real Pictures, LLC
RUDY + NEAL GO FISHING - Documentary
This is a film about two guys going fishing in South Florida's beautiful waters. But it's not your ordinary fishing trip.
Meet Rudy and Neal.
Rudy is a U.S. Army veteran suffering from Post Traumatic Stress Disorder (PTSD).
Neal is a tournament angler with an unusual professional background.
Fishing is part of Rudy's therapy.
Rudy spent a majority of his military career in multiple war zones and when Neal is not competing in a fishing competition, he makes a living cutting hair in Miami. Watch how the simplicity and tranquility of fishing in this remote paradise allows this vet to reconnect with nature and start to heal.
In the inspirational half-hour documentary RUDY + NEAL GO FISHING, Captain Neal Stark helps veterans by taking them out fishing in South Florida's beautiful waters. Neal's calm demeanor and supportive approach enable Rudy Watt, a U.S. Army veteran suffering from post traumatic stress disorder, to spend a relaxing day out on a boat and enjoy time with his companion. A tournament fisherman with an unusual professional background, Neal is clear about the fact he is not a therapist. Rather, he's someone who appreciates what our veterans have done, and feels he can help them escape, if not overcome, their anxiety and other symptoms related to PTSD. Nationally, there's a lot at stake for veterans with PTSD — roughly 20 veterans a day commit suicide nationwide, according to data from the Department of Veterans Affairs. RUDY + NEAL GO FISHING shows how the uncomplicated tranquility of fishing allows Rudy to reconnect with nature and start to heal.
First Sgt. Rudy Watt
Rudy was born in Jamaica, is 56 years-old, and has spent his career serving in the U.S. Army. The VA diagnosed Rudy with PTSD after his extended tour in Iraq. Rudy retired from the military and currently lives in Miami Gardens.
Captain Neal Stark
Neal is 55 years-old, grew up in Miami Beach and began fishing at a young age. He now lives in Davie and works as a hair dresser at L'Estetica Salon in Aventura. In his spare time, he runs a non-profit foundation called Fishing with America's Finest and takes veterans suffering from PTSD to fish as a form of recreational therapy.
Abigail Tannebaum Sharon
Abigail discovered cinema at a drive-in movie at the age of two-- her love for film has not faded and she has been telling stories ever since. Abigail runs the production company Real Pictures, and has produced and directed three independent documentary films. Her work over the past two decades includes an Emmy-award winning program with clients ranging from a national commercial campaign, National Geographic Channel, UpWorthy, PBS, Discovery Channel, TLC, HGTV, and VOA. Abigail recently co-directed, with Yael Luttwak, the short documentary MAINE GIRLS about teen girls from the Congo, Jamaica, Somalia, Vietnam, and Maine.