'Grandkids-On-Demand' Help Older Adults Get Through The Pandemic
A local "grandkids on-demand" startup called Papa is helping older adults get through the pandemic by pairing them with young adults, who are known as Papa Pals.
Papa provides companionship and assistance on everyday tasks, which have become more taxing with COVID-19 restrictions especially for those of certain age.
"Getting groceries in and that sort of thing was getting difficult. And then, sometimes they take me to the doctor or just all kinds of things. Sometimes I have trouble like using the vacuum cleaner," said Rosaleen Eline, who is 81 years old and lives in Pennsylvania.
WLRN is here for you, even when life is unpredictable. Local journalists are working hard to keep you informed on the latest developments across South Florida. Please support this vital work. Become a WLRN member today. Thank you.
Papa — founded in Miami in 2017 — paired her with 20-year-old Shyeayne Harleman, who lost her job as a hairstylist because of the shutdowns related to the pandemic. Now, she's a full-time Papa Pal.
"You just show me that getting old doesn't have to be so dull," said Harleman to Eline during a visit. "It's nothing that I should have to worry about. I mean, just looking at you makes me happy that I should be blessed to be where you're at [one day]."
Listen to Harleman and Eline talk about how they've bonded during the pandemic.
Shyeayne Harleman and Rosaleen Eline on bonding during the pandemic
WLRN Sundial producer Leslie Ovalle spoke with Papa founder and CEO Andrew Parker about the service and how they've adapted to the pandemic.
This conversation has been edited for length and clarity.
Papa founder and CEO Andrew Parker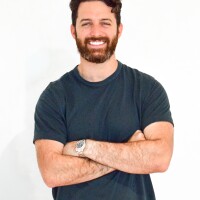 WLRN: What was your motivation behind creating Papa?
PARKER: I started Papa to support my grandfather, who we call Papa. He was an entrepreneur and moved from Argentina to Miami just before my mother was born, raised the family and grew the family here in South Florida. He was very strong-willed, kind of the king of the family, and always inspired me to be an entrepreneur, which is, of course, what I've become.
He ultimately, unfortunately, got dementia, which progressed pretty rapidly into Alzheimer's. He needed a lot more assistance and my grandmother, who was his primary caregiver, needed some respite. She needed some help around the house with my grandfather and she needed some support in addition to just herself managing the services. We tried home care services, but he didn't really need it per se. He also felt like he was being cared for and he didn't want to feel like that.
So pairing him with a young, fun, energetic, what we call 'Papa Pal,' was something that made him feel excited and uplifting. It was just beautiful to see my grandfather go from someone that wasn't that interested in anything new to really being receptive and more open than I ever expected to someone else coming into the family.
He was very knowledgeable and he loved passing on this information to the younger generation. Papa was valuable for my grandfather, Pablo, but also for the Papa Pal, whose name was Andrea. And we've just been trying to repeat that magical experience we first saw with my grandfather, ever since.
How has the pandemic impacted your business?
Papa traditionally sends Papa Pals into the home of older adults and drives them and other things. And because of COVID, we wanted to ensure social distance, especially in the older adult population. We quickly navigated it and built a platform that allowed for both virtual and in-person visits. Today we're doing many, many virtual visits, thousands a week, several thousand a month.
It's been really powerful, because of that Papa members, who are now more lonely and isolated than ever, are able to connect with someone who's energetic and youthful and can provide that companionship and also provide what we call assistance from a distance — which is when a pal could go pick [your groceries] up for you, wear a mask and drop it off in a contactless fashion. The same with medicine, they can also help you navigate your benefits.
At the end of the day, you are becoming friends and almost like remote pen pals. Not only have older adults been receptive to it, but they're also excited and interested in moving on to newer technologies like video chats. We've been able to support older adults in the modality that they feel most comfortable, whether it's telephone or video or in-person or the pal running errands on behalf of the member, we're able to support all of those things. Generally, this negative situation we've been able to turn as much as possible into a positive.
What do these two populations, who are sometimes in such different places in life, have in common? And what does it take to be a Papa Pal?
What's interesting, according to a recent Cigna study, is the two loneliest generations are older adults and college-aged individuals, which is the general population that we have as Papa Pals today.
I think it's really important to not forget the part that companionship is our core. And then, in terms of where do they talk about, the stories are endless. We had a member that was on the Tour de France a long time ago and we ended up pairing them with a Papa Pal who was kind of a cyclist enthusiast and they had a really great experience riding around town.
It's incredibly strict to become a Papa Pal, there's thorough vetting, background check, personality test, car inspection, DMV look, social media scan training, among other things, including constantly monitoring. So we know what happens every visit.
The Papa Pals make an average of $15 an hour. It's a complex algorithm that pays them for different things, like doing certain objectives, providing a really good quality experience and taking a certain number of visits.
How accessible is the Papa Pal service?
Most members today get this as a benefit for free through their health plan. We're also offered through Medicare Advantage, which is generally for older adults and also Medicaid, which is, generally speaking, for low-income individuals.
It's been really great to be able to help people in lower-income scenarios and also people that aren't necessarily in lower-income per se, but their family is at a distance.